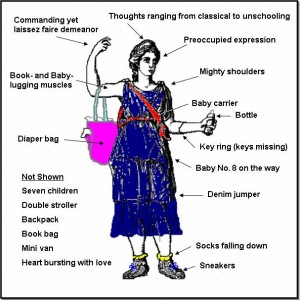 My daughter is going to turn 5 in a few short months. Yesterday she placed an enormous, glittery, pink , princess, backpack on herself and loaded it up with junk. She said, "I'm going on vacation," but all I could think of was her eventual first day of kindergarten.
She is going to need to attend school and that scares me, for a few reasons. For one thing, I don't want her to get bigger. I'd like to invent a child "pause" button for both of my children.
Secondly, the decision of where to send your child to school can be a daunting one.  I have friends who have struggled, prayed, been put on waiting lists, been rejected by schools they liked, only to start  all over again.
There is also the issue, however, of homeschooling. This word used to sound like a dirty word to me. Homeschool. Still sends shivers down my spine. My husband and his brother were both homeschooled through high school and all things considered, are two of the most normal, healthy, Godly guys I know.
But I'm no homeschooling mom. I imagine all homeschooling moms wear denim jumpers and have hair down to my butt. I don't have a baseball team worth of children or drive a mini-van. Do those things automatically disqualify me or is there more to this homeschooling thing than I assume? Continue reading My Homeschooling Nightmare