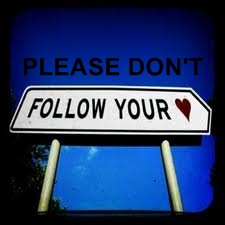 God made us to be emotional beings. We experience millions of varying emotions over the course our lifetime from elation, to horror, admiration to disappointment, anger to joy.
If God designed us to express and experience emotion, it is no surprise then that for many of us, our emotions are critical in guiding and directing us.
Yet, as believers, should we always yield to our emotions? Better yet, is it always safe and wise to follow our heart, wherever it may lead?
Because I can't help but wonder, in all of the ways the Lord gave us to help guide us in making wise decisions–the counsel of others, the Bible, prayer, common sense, our intellect, and our heart–if following the latter is always the best choice.
Especially, when you consider the sort of shocking statement the Bible makes regarding the heart… Continue reading Don't Follow Your Heart