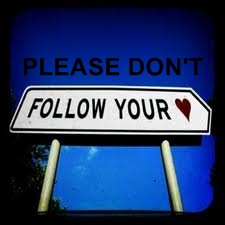 God made us to be emotional beings. We experience millions of varying emotions over the course our lifetime from elation, to horror, admiration to disappointment, anger to joy.
If God designed us to express and experience emotion, it is no surprise then that for many of us, our emotions are critical in guiding and directing us.
Yet, as believers, should we always yield to our emotions? Better yet, is it always safe and wise to follow our heart, wherever it may lead?
Because I can't help but wonder, in all of the ways the Lord gave us to help guide us in making wise decisions–the counsel of others, the Bible, prayer, common sense, our intellect, and our heart–if following the latter is always the best choice.
Especially, when you consider the sort of shocking statement the Bible makes regarding the heart…
"The heart is deceitful above all things, and desperately sick. Who can understand it?" Jeremiah 17:9
I re-read this simple verse about 4 times and felt rather overcome with sadness at the obvious truth of it. I had a montage of images flash through my mind–images of reality television, human beings and their depraved behavior, the rapid decline of morality in this country.
Sorry if I sound a bit melodramatic, but this is what I thought about–the sickness of the heart.
Of all of the things the Bible could say about the heart, God's Word does not pull any punches. It tells us that our heart is not to be trusted and not only that, it is not to be trusted because it is depraved and ill–broken and filled with a sinful nature.
Wow.
And yet so many of us have fallen for the lie that following our heart is necessary and even wise. Just like so many things I have written about before, the mantra "Follow your heart," has become a sort of cultural bumper sticker applied to every kind of situation from choosing a career, to choosing an abortion, to choosing a divorce.
Just follow your heart.
We have added our own Christian-ese to the "follow your heart" anthem, as well. We say things like "God moved my heart," "My heart wasn't in it," and the one that really irks me "Ask Jesus into your heart."
But, after reading the verse from Jeremiah and really meditating on it (not that it needs meditation because man, it's about as black and white as it gets) I doubt that I could ever again only allow my emotions to guide me.
And for good reason…
If I only followed my heart….
I would be selfish.
I would be vain.
I would be self-absorbed.
I would self-protective.
I would be untrustworthy.
I would be shallow.
I would be blind to the feelings and needs of others.
I would basically be the antithesis of Jesus.
And Jesus. What about Jesus? Did Jesus follow His heart? Dare I say, He denied His heart. He did not want to go to the Cross. His emotions, His heart as it were, were trying to prevent that from happening.
Thankfully and joyfully for us, Jesus did not listen to His heart, but rather the Spirit. He yielded not to His emotions, but to His Father in Heaven.
Jesus even said "For out of the heart come evil thoughts, murder, adultery, sexual immorality, theft, false witness, slander." Matthew 15:19. He knew and He warned us.
Our emotions are meaningful. God made us to be emotional beings, but simply following our heart is not the wisest course of action. We can express righteous anger, feel overwhelmed by joy, drown in feelings of hope, or anguish, or peace yet none of those emotions alone, can lead us to the mind of Christ.
It is in following God, not our heart, that we can find true fulfillment. The heart is fickle. Our emotions cannot be trusted, but God can.
Have you ever subscribed to the mantra of "Follow your heart?" Has it helped or hurt you? How much should our emotions guide us?