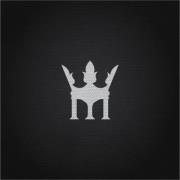 A few weeks ago, on Friday Findings, I shared with you a cool Christian clothing company called Mend Mark, whose purpose is to create products "that serve as visual reminders of the life and death of Jesus, the greatest lover in history."
Well, the rad guys at Mend Mark contacted me and offered to give me some free swag, sorta as a thank-you for sharing the love. But instead, I asked if they would be willing to up the ante and offer a giveaway to you, my awesome rejects. They said "Yes!" So today, is giveaway day.
Here's the suh-weeeeeet prize graciously being offered by Mend Mark:
One lucky winner will win one of the newest Mend Mark T-shirts, the Follower shirt. Behold her awesomeness….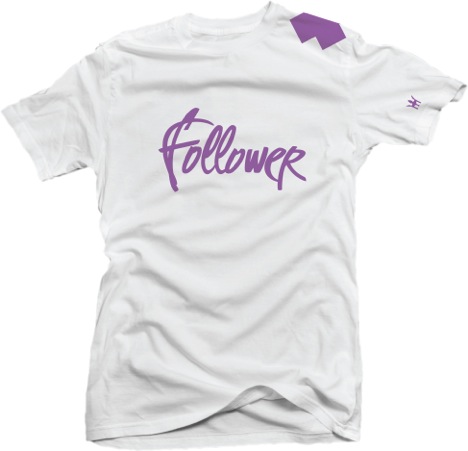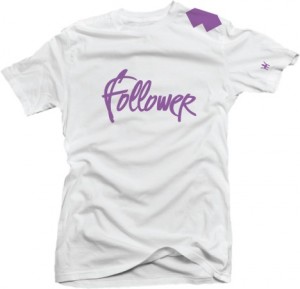 There are shirts for dudes and shirts for chicks, so never fear. If you win, you can choose.
So how do you win, you ask? Simple…
1. Leave a comment on this post finishing this sentence: "I'm a follower…"
2. "Like" Modern Rejects Facebook page
3. Follow me on Twitter
4. "Like" Mend Mark's Facebook page
5. Follow Mend Mark on Twitter
6. Tweet this post out to your tweeps (is that the right terminology?)
7. Share this post on Facebook
8. Write "I'm a follower," on your chest and run around naked while video taping the event (P.S. This automatically wins the giveaway)
Each time you do one of the actions above, leave a separate comment. The more you do, the more entries you will rack up. The winner will be chosen via random.org and announced Tuesday the 16th. Only U.S. residents can win and must be at least 18 to play.
Good luck!