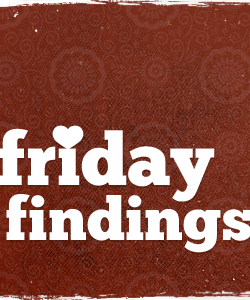 Holy crap, it's November. I've been excited it's finally Fall and the holidays are around the corner. What are your favorite things about Fall?
Mine include raiding my kids Halloween stash, eating other people's delicious seasonal baked goods, and consuming lots of turkey and cranberries. Yeah, it's all food related. Don't judge me.
Okay, so onto this week's Friday Findings:
The people who brought us the Bible on our phones–YouVersion, now has a new Bible app for kids. The homeschooling mom in me is geeked out about this, in fact. Looks like it might pretty good instead of really cheesy like most Christian kid things.
Sonny wrote a great post called "When We Were Asexual." Don't be fooled by the title either. It's not what you think and it's so good.
My husband is a go-getter. You know, one of those people who is full of ideas and then writes down goals and then achieves said goals. He even wrote a personal mission statement. I did not. But this post inspired me to maybe go ahead and write one anyway.
Can an Introvert Really Be a Pastor? The title of this post sort of got me all huffy. "Of course they can! For the millionth time–Introverts like people!" This guy has a different take and while I don't agree with all of his points, it's a valuable read.
Rapper Ja Rule Talks About How Hillsong Changed His Life. I wish he had just yelled "Jesus!" but I still love watching stuff like this. God can use any church, any pastor, any believer, any gathering to reach whomever He chooses.
These 20 Photos Are Going to Make You Cry (in a good way). They made me cry, but I'm a big baby so…
I wish this "Open Letter to Professional Church Staff Dudes" from Los really could be sent to churches everywhere. Brilliant.
Man, us moms get it so wrong sometimes. We are always hardest on ourselves, as these kids prove.
Have you guys seen BatDad yet? Because if not, you're not living.
My favorite from the week. Warning: scantily clad women in lingerie. Totally purposeful and worth it though.
Thoughts? Reactions? Loves? Hates? Go!