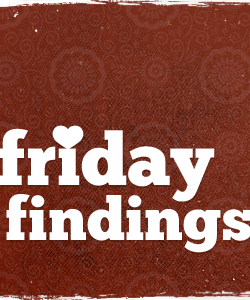 Happy Friday! I've had a great week, especially since I celebrated my 7 year wedding anniversary to the man of my dreams. If you'd ever like to spy on us (in a very socially acceptable way) follow me on Instagram @modernreject.
Anyhoo, besides being a fun week celebrating there were also some great reads on the Interwebz. Hope you enjoy and happy weekend. See you Monday!
Did Apple Really Just Screw Over iPad Owners? Pretty much, yeah.
Daughter, Love Your Hips, No Matter the Width from Nikki Weatherford. I wish I had read this as a younger woman.
The Age of Mockery from Daylight Atheism talks about Libya, Islam, and the Muslim definition of "freedom of speech." Interesting perspective.
Sometimes Truth Arrives in Disguise from Kristin over at Halfway to Normal. A beautiful description of the seemingly mundane, ordinary moments that when we pause long enough to notice hold real beauty.
With the election days away, I had to share this post from Jen Hatmaker. In one fell swoop, Jen systematically attacks the Christian reasons often given for voting Republican or Democrat. I don't agree with everything she wrote, but I do find it rather brilliant and worth reading. Chew on this, for instance:
"Full allegiance silences our prophetic voice in favor of touting party lines and demands we turn our fellow citizens into enemies for differing viewpoints."
What's your condition? How do you cope? Who did you become? A fascinating "psycho-dimensional infographic" that explains how psychotherapy sees you. Healthy? Schizoid? Narcissist? Find out.
18 Things You Didn't Know Your Slow Cooker Could Make, because I mean, I am a stay home mom after all.
From Nish, The Truth About Going Back to Church. After reading this post, I was overcome with sadness–sadness for what she has experienced and sadness for knowing what could be, but what it seems is not.
My Favorite Read of the Week: From my friend Karen, A Different Kind of Birth (and Proof of God) in which Karen masterfully and beautifully ties the story of her mother's (very) recent death with the existence of God and new life. You will be so glad you read this. 
P.S. In case you missed my interview from yesterday over at Jamal's blog, please come visit. The questions were challenging, personal, and so fun to answer. Stop over and add your own questions in the comments. Hope to see you there.