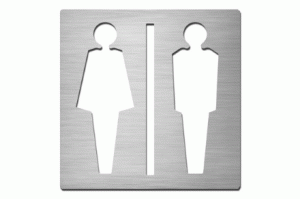 Today's guest post comes from the marvelous Matt Appling, who is the brain behind the blog The Church of No People. I happen to adore Matt's blog and wish that mine was as cool as his. Pretty much everything he writes I could steal and use on Modern Reject. It's that good. So without further ado…
I owed Nicole a guest blog since she blogged for me over the summer. So she cashed in her "IOU one blog post" while she's recuperating from having a baby.  That's awesome.  Bravo.
And as I think about that, I think about one thing that exists in our culture, one problem that I think looms bigger than almost anything, one thing that every kid is going to have to deal with.  It also happens to be the reason we're all here.
Sex.
Geez, we're obsessed with it.  And ashamed.  And grossed out.  And completely obsessed.  We really have a love-hate relationship with it.
And of all the things we do with sex, this is the one thing I think we mess up more than anything.
Sexual Identity
That phrase bugs the heck out of me.  When did we think of it?
People didn't always think of sex as an "identity."  It was something you did, and you kept your mouth shut about it.  We call that attitude "repressed" now.
That's the biggest problem with sex today as I see it.  We've made it an "identity."
It is possible and perfectly acceptable now for someone's entire personality, entire life, to be summed up and consumed by who they are doing it with.
Don't act like you don't know what I'm talking about.  When we were in high school, a boy could be permanently branded for being a virgin or a stud, depending on his sexual misadventures.  A girl's personality, dreams and talents could be ignored by her peers as she is summarized with the word "slut."
And then we grew up.  Tell me you haven't met any gays whose entire life is defined by being gay.  For some gays and lesbians, that is all there is to life.  Everything else, from wardrobe to neighborhood to job to eating habits seems determined by that one thing.
Sex Obsessed Christians
And don't act like Christians are much better.  And I'm not even talking about our futile attempts to pry lovesick gays apart from each other.
We put so much pressure on sex.  We put sex on a pedestal and act like it is the defining act of being human.  We train kids to be obsessed with it, (even though we're trying to train kids not to do it.)  We tell them that if they don't wait for marriage, they will be permanently and irrevocably damaged goods, that they will lose their souls.  And if they do wait, then married sex will be immediately and always be amazing and fulfilling.  How can teenagers not be OCD about sex with that message?
Of course, you and I know, either because we waited or we didn't, that neither of those are necessarily true.  But it's a lot harder to explain the truth to kids than to just say, "Don't do it."
And, holy crap, if people weren't occupied enough over other peoples' body parts, we certainly will never run out of ways to obsess over our own body parts.  People are completely preoccupied over little bits and pieces of their bodies, as if they are the most important parts. And if something's not quite right or not quite big enough, people don't think they are even complete people.  People have surgery to reshape some lump or bulge, most of the time in the vain attempt to fix their "identity."
Having the Talk
If I were getting ready to have "the talk" with a kid, here's what I would say.
Sex is great.  It's important.  It's wonderful.  But it is a small part of life.
Your sex is just a small part of your body.  You are not determined or destined by your sex.  It is not the most important part of you.
Sex is not the most important thing you will do, even though it may seem that way.  It will occupy just a small part of your life.  You were never meant to obsess over it as much as we do.
And sex, your body parts, who you're doing it with, is not your identity.  Your identity cannot be defined by your flesh.  Just like you cannot be defined merely by your job, or your clothes, or you bank account.  People will try to define you by those things.  Don't give in to that.
Your identity is that you are a child of God.  God is so much bigger than sex.  Don't trade that huge, permanent identity for an infinitely smaller, temporary identity.
Tell us what you think?  Have we made too much of sex?  Too little?  Is our Christian message about sex helping teenagers obsess even more about sex?
I'm Matt. For starters, I'm a pastor at a house church called Levi's House.  I'm also a school teacher.  I used to be, among other things, a graphic designer and youth pastor.  I live with my wife, Cheri, and our two dogs in the Midwest.