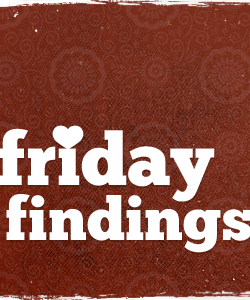 You may have noticed that the last few weeks have been void of any Friday Findings. For that, I am sorry. Summer time has taken over, what can I say?
But despite that, today I have all kinds of awesomeness to share with you. So let's get to it:
Why I Love My Organic Church. I'm a part of an organic church and I love it. And actually, this post from Arianne over at a Deeper Story, is about my organic church. That's right. Arianne is a member of my church family so, if you have interest in knowing what my church looks like and how an organic church operates, go read this.
The First 6 Months of Marriage. The dynamic duo of Allison and Darrell Vesterfelt (the couple behind Prodigal Magazine) both shared a list of the top 6 things they've learned in the first 6 months of marriage. I so appreciate the humility, humor, and honesty in what they shared.
Are You in Your 30's? Frank Viola posted a survey this week for 30 somethings.  He poses, essentially one powerful question to those in their 30's regarding their faith. If you have time, consider stopping by and taking this quick survey. Also, because Frank rocks.
Books, books, and more Books. Sarah Bessey started a blog series, called 10 Books a Day for a Week. She lists lots of books, from ones she can't stop reading again and again, to books for little kids, to books for little little kids. It's great and any book lover would enjoy.
A Good Top 10. Her.meneutics posted their top 10 posts of this year so far. It's a great list and worth checking out.
A Conversation to Reduce Abortion. If you are passionate about reducing the number of abortions in this country (and I really hope you are) than you will be encouraged by the ideas presented here.
Fear of Tattoos? Are you a Bible-following Christian who is hesitant to get a tattoo? Well, now there is a solution--these super-rad and realistic temporary tattoos from Tattly.com. I kinds, sorta want one of each.
Did you find anything share worthy this week? A blog post, an article, a random bit of happiness that will make me smile? Le't's hear it!