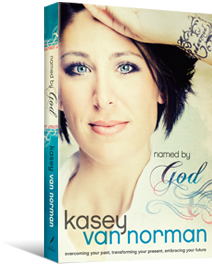 ******************THIS GIVEAWAY IS NOW CLOSED***********************
Congratulations to Sami Jo on winning the giveaway!!
Hi Rejects. Have you heard of Kasey Van Norman? If not, allow me tell you about her for one quick second…
Kasey is the vision, passion, and beauty behind Kasey Van Norman Ministries, where she ministers to people through her gift of teaching. This girl can teach, let me tell you. Not to mention, she is all about empowering others through, the Word and the Spirit, to find freedom in Christ (it's like she's my passion twin).
So when Kasey's new book cam out and she graciously supplied me with some copies, and extra goodies for my readers, I was stoked.
Her new book, Named by God, is the story of her own path to freedom, yet told in a way that makes freedom in Christ available to anyone. If you think she comes off as just another female Bible teacher, you'd be wrong. Growing up, Kasey  suffered through  an eating disorder, sexual abuse, and cutting. As an adult, she experienced a miscarriage and the subsequent devastation it brings, as well being diagnosed with cancer.
She gets it. She understands our need for God's grace, power, and healing.
All that to say, let's get this giveaway started. Here's what one lucky winner will receive:
3 copies of Kasey's book, Named by God.
3 copies of her accompanying Bible study, Named by God, a six-week study that teaches you how to let go of past hurts, experience God's power now, and kindle afresh a new flame for God.
1 copy of the Named by God DVD. This is Kasey teaching and preaching and is the companion DVD to the Bible study. Sooo good.
3 "Redeemed" bracelets that also happen to be very similar to the gorgeous "Redeemed" tattoo Kasey rocks on her wrist. Love that.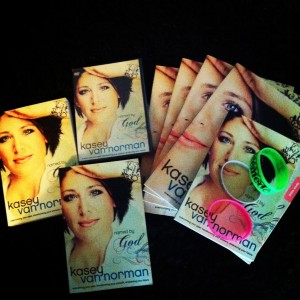 This prize would make an awesome  gift to a woman's Bible study or woman's group. Or heck, this would allow you to start your own Bible study with friends.
How to win:
Leave a comment on this post saying "FREEDOM," and tell me in a sentence or two where God has brought freedom to you and/or where you are still seeking His freedom.
Earn an extra entry by Tweeting this giveaway to your tweeps (Is that what they're called? I never know).
Earn one more entry by hitting the "Like" button next to this post.
Earn another entry by going over to Kasey's Facebook page and "liking" her.
Earn yet another extra entry by following Kasey on Twitter.
Please be sure to tell me if you've completed the additional entries in the comments below, by leaving a separate comment for each action. (I know that part is annoying, but it's the fairest way for me to track entries).
The rules and stuff:
This giveaway is open to legal U.S. residents and can only be shipped within the 48 mainland states.
You must be at least 18 to enter and win.
The giveaway ends Monday the 16th at 9:00 p.m.
I'll be using random.org to select a winner and will post the results on Modern Reject.
Good luck! Hope you win! And if you do, you have to write me telling me about how you used this book and Bible study and what God did.
***************************************THIS GIVEAWAY IS NOW CLOSED************************************************