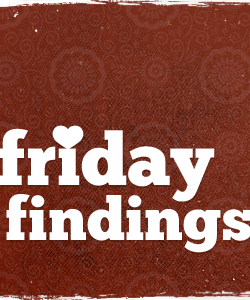 So much has happened this week, I almost feel overwhelmed. Except that much of what has happened has been the moving of the Spirit and God doing big things (more to come on all of that).
Not to mention, there was so much awesome stuff in the ol' blogoshpere this week–stuff I couldn't wait to share with all of you.
So let's get to it:
Will There Be Gays in Heaven? Craig Gross of XXX Church is the real deal. He seems to me to be one of the few really well-known, highly respected Christian figures who just gets it. What is "it?" Jesus. The article he wrote for CNN is a perfect example. Truth and grace, all over the place.
Little Girls and Hotties. Do you have daughters? If so, then you need to read this post from Karen Yates about modesty and our little girls. She asks us what the boundaries of modesty should be for our daughters and gives tons of practical examples. Good stuff.
Stop Trying to Imitate Christ. I introduced Jamal Jivanjee to you a while back. He has quickly become a powerful and edifying resource for me. This post from him is a prime example, filled with the richness and truth of Jesus and His Word. If you've ever struggled with trying to "act like Jesus" and failed, please read this.
The Circle Unbroken. Cathleen Falsani is one of my favorite Christian bloggers, although it's rather unfair to call her a "blogger" because she is much much more. She is an author and writer first and foremost and this post from her tells you why. It is all of the beauty, simplicity, and loveliness of Jesus' church and how it can look so different and yet still reflect Him.
The True Gospel. Not a single post this week got me as pumped and excited as this one. A taste: "Religious jargon will become fossils and equally nutritious. A new sweeping movement of the gospel couched in the terms of our culture and swept through communities by the Holy Spirit is coming." Um, yes and yes!
An Inside Peek into my Church. If you desire to see and read what my church life is like, my friend Donald, has posted a letter essentially chronicling our church activity over the last month or so. Healing? Check. The Holy Spirit in abundance? Check. Prophesy? Check. God's people being ignited? Check. Go on, I know you're curious. (While you're there, check out the rest of Donald's blog. He speaks truth like no one I know and I love it!)
So there you have it. It's quite a list this week, don't you think. I have so much to chew on and pray through from these writings alone.
Now, it's your turn. What events, experiences, or words  encouraged you, challenged you, or edified you this week? Or what angered you, convicted you, or compelled you to seek God?
P.S. Did you see the Modern Reject giveaway for the chance to win a Bible study series from the teaching power-house Kasey Van Norman? Don't forget to enter to win and get the hook-up!