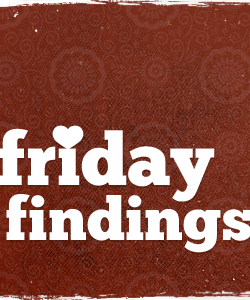 Holy wow, there is just too much to share on today's Friday Findings…so let's dig in…
Stop taking pictures of your kids. I mean it. Stop.
Yet another reason I want an iPad.
What to do when you don't know what to do: "Prophetic insight is not a gift, I think this morning, prophetic insight is a bear and a burden."
Wait, so I'm not crazy? None of the female persuasion is crazy? Say whaaat??!!
The Gospel in a fortune cookie? Or not. Brilliance all around.
This was so me in college. All of me. Still a little bit of me, but I'm getting better.
Ever feel like you're drowning? I have. I'm That Girl Who's Drowning…
Pure fodder and an admitted guilty pleasure read, but yes, as we suspected, Tom Cruise is off his flippin' rocker….. 
Guaranteed to make you cry and cheer. A beautiful post from my friend Tracy Steel, about losing her mother but knowing she will see her again.
This man actually witnessed Abraham Lincoln's assassination. You read that right. It's a video from 1956 and it's pretty remarkable.
Is it possible to get too close to God? Sarah did and I loved reading about it.
My Favorite Read of the Week: If you've ever felt like God owed you, if you've ever felt disappointed, if you've ever felt hopeless, left waiting, uncertain–read this.
P.S. I'm over at Matt Appling's blog, The Church of No People, today talking about being a feminist and then former feminist wife. Here's a taste:
What's more, I could have never predicted that I would be willingly joining a group of people who are often quoted as saying all kinds of absurd things like "Wives have a responsibility to always look hot for their husbands," or "Women are required to give their husbands sex whenever they want it."
No. This couldn't possibly be. No one who loves Jesus could actually make such claims with a straight face. It wasn't possible. And yet…these ideas are prevalent within the church.
Slowly, however, as God does what it is that He does so well–pull us from where we've been and where comfort resides only to drop us smack in the middle of the opposite.
To keep reading, come on over. Hope to see you there. 
What did you read this week that you're just dying to share? I know you've got something. Let's hear it!