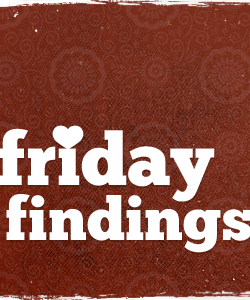 Oh man, after an almost two week hiatus, I was back this week and it felt guuud. I missed things around here, like you. Yeah, you.
I was also internet-less because I was computer-less so I wasn't able to keep up with all of my favorite blogs. Today, however, I'm making up for it. I hope you enjoy this week's Friday Findings because they are juicy and delicious…
This is the stuff that breaks my heart–when Christians have a bad name.
Have you ever had questions about what it means to be "baptized in the Holy Spirit?" This 4 part series from Frank Viola pretty much blew my mind and radically challenged my thinking and understanding of this idea.
Did you hear that the kid from the show Two and a Half Men is now a Christian…and get this…is telling people to stop watching his immoral, depraved, and generally sucky television show? Golden.
Why Rachel Held Evans Won't Change Christianity from Daylight Atheism. I pretty much disagree with the arguments made regarding the why and how of patriarchy in Christianity–in this case, primarily Catholicism (but I do agree that no, Rachel Held Evans isn't going to change Christianity). A good read whether you agree or disagree.
For those of us who grew up in chaos, surrounded by abuse, or battled a life of dysfunction–read this and thank Elizabeth Esther for offering such grace and freedom.
The 10 Ten People Christians are Better Than. Wish I had written it…
How Not to Help All the Single Ladies. Yes!
Read of the Week: Lately, I've been questioning the effectiveness of my prayers. I feel as though I pray for myself and…nada, zip, zilch. My totally amazing and faithful friends have assured me that this is not the case–that my prayers hold power and authority. All that to say, this post from Bianca Juarez this week was such a needed reminder. I was convicted and inspired.
Okay, your turn. Share away. I mean, don't share too much so that you're all creepy and uber-open 'cause no one likes that (I mean, I do, but you know). Just tell me what you read, or loved, or loathed this week.