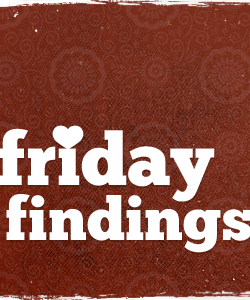 Holy crap, you guys…did you realize that it has been over 3 months since I've written a Friday Findings post? Of course you didn't. I didn't either. But, their baaaaacckkkk….
[Time to get excited.] Let's pretend it's Friday, shall we? I'm a little excited myself.
So, in honor of the newly resurrected Friday Findings, I'm switching things up a bit. Yes, you'll still find the usual amazing, poignant, and yet simultaneously trivial links to the random stuff I like. But I will also be adding a few extra goodies:
From now on, each Friday I'll be sharing with you my Favorite Blog Comment of the Week and Tweet of the Week. That means if you leave some uproarious, or deeply touching, or painfully brilliant comment on the blog, I'll share it here on Friday Findings. I'll also send you a virtual hug and fist pump. Score! Same goes for the best tweet of the week.
Which means if you don't comment on MR or follow me on Twitter, you can't win. And yes, it's a contest. And yes, you know you want to win. So get on it.
Now onto the links and stuff:
Did this really happen? I cannot imagine the terror, but I can imagine it making a suh-weet Hollywood flick staring Ryan Gosling.
Oh, Frank. You can do no wrong. And this series on rethinking spiritual gifts is about as good as it gets. Read it and be challenged.
This is an oldie, but goodie from Carlos Whitaker about "professional church people." My thoughts exactly.
My friend Arianne recently launched her exquisite beauty of a new site called Mabel + Riv. It is just about the prettiest thing around and not only that, it is filled with the depth, richness, and perfection of Arianne's words. Go now and be happy you did.
I almost committed suicide, but…A reminder (for me mostly) that God can use any person, any church, anything to offer hope.
Brilliance and one of the best articles I've ever read about women and body image issues.
All writers lie and they are especially good at lying to themselves.
How to overcome a creative block, from Alice Bradley, one of the funniest and wittiest writers around.
My Favorite Read of the Week: from Rachel Held Evans and happens to be my favorite thing she has ever written. Truly.
Comment of the Week: From Gunnar "This was epically awesome." Well, thank you.
Tweet of the Week: Didn't really have one, so get on it already.
And a super big thanks for helping Modern Reject land on the Church Relevance Top 200 Ministry Blogs list for the 3rd time in a row! You rock!
Whatcha got to share with me?