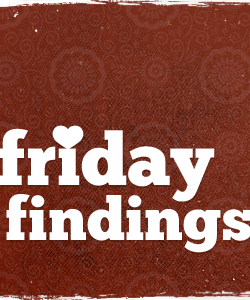 This week's Friday Findings is a hodge-podge of the weird, kooky, silly, touching, and heartbreaking. Just the way I like it. Enjoy.
These awkward Jesus pictures have been floating around Facebook. If you've missed 'em, here ya' go. You're welcome.
This might be my favorite finding of the week. It is worthy of its own post and I found it fascinating. There's not much to say except that we all long for something. Every single one of us–famous or not–is seeking something more, Someone more, whether we are able to articulate that longing or not.
The Top 5 Regrets People Make on Their Deathbeds. This is so poignant. Number 4 spoke to me especially. I am not good at maintaining friendships. It has always been work, but I do not want to carry any regrets. Which one speaks to you?
I really really like Halloween. Not so much the demons and darkness bits, but more so the costumes and the candy. Sorry if you don't feel the same. And I enjoy a scary novella from time to time (I'm currently reading some H.P. Lovecraft. Know him?). I've always enjoyed the creepy, the bizarre, and the morbid. What can I say? So when I found this list of some of the scariest books ever written I smiled.
This story breaks my heart and pisses me off for the sheer fact that any child living in America should never have to do this. I can't criticize though. I haven't opened my home to any orphaned children…yet. God used this story to open my heart up even more to the idea.
An Open Letter from Asian American Evangelicals to Stop Being Stereotyped. A thought-provoking and heart-felt plea. "We have imagined and hoped for such a different future for the church, one in which racial harmony would not be an illusion, but a tangible reality."
What Doesn't Impress Me–A Message to 20's and 30's. Frank again. Bam. And ouch…in a good way.
Why Nobody Wants to God to Church Anymore. I have to say, I very much agree with the author's reasoning as to why people just don't want to go to church these days. I sympathize. Heck, I empathize. But the only thing this article did was make me ever more grateful for a church body literally freed from everything on this list.
There you have it. Maybe one of my favorite round-ups ever. What about you? Did anything on the list get you thinking? Got anything good to share with me? WHat have you read, loved, disliked, or rejoiced over this week?