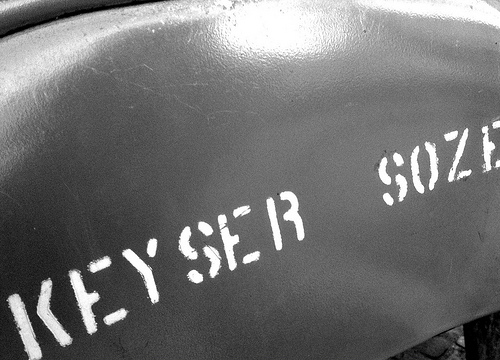 If someone were to ask you what has caused more harm to the Church as a whole, how would you answer? Because I don't what I would have said a few weeks ago, but then…
During a church meeting a few weeks ago, a member of my church family said: "The existence of denominations and factions within the church is the greatest deception Satan has ever committed against the church."
I nodded my head in agreement.
I've felt that. I've known that. I had just never put it into words.
As my friend said this I was immediately reminded of the movie The Usual Suspects and that bastard Keyser Soze. Satan, the Great Illusionist and Perpetual Deceiver, always scheming.
And here I sit,–denomination-less for the first time in my walk with Jesus and I find it liberating. I find it life-giving actually. But, you should see the reactions of other "believers," when they hear that I do not belong to a particular denomination. When they ask what church I attend and I say "organic church" you would think I said The Universal Church of Good Times and Happy Feelings.
And every once in a while, I have witnessed other believers become so defensive of the way they "do church" and so critical of organic church, that I am reminded of just how anti-God the practice of denominations really is…
The idea that man decided long ago to forgo the concept of unity and oneness and instead embrace a concept that literally creates and maintains fractions within the Church is astonishing to me. More than that, it is heartbreaking…tragic really.
"I appeal to you, brothers, by the name of our Lord Jesus Christ, that all of you agree, and that there be NO DIVISIONS among you, but that you be united in the same mind and the same judgment…Is Christ divided?" 1Corinthians 1:1-13
"Unity" is certainly a word Christians throw around from time to time. Live in unity. Be unified. Pray for unity. I think, though that most in the church wrongly believe that unity is synonymous with "status quo" You know, that we are all getting along and keeping the peace. No one is fighting or bickering. No one is boat-rocking. We are all "Christians," as it were.
Unity, however, is defined as "the state of being in full agreement." Ouch. Or "the quality or state of NOT being multiple." Ouch again. Or even still, "the quality or state of being made ONE."
The Usual Suspects got it wrong (as Hollywood so often does). The greatest trick the devil ever pulled wasn't convincing us he doesn't exist, but rather telling us that we could never and should never be One.
Then the devil sat back and watched us tear apart the Body of Christ, limb by limb.
But Jesus said this:
"I in them and you in me. May they be brought to complete unity to let the world know that you sent me and have loved them even as you have loved me." John 17:23
It is our unity–complete unity–that is meant to be an outward display for the world to see and marker to prove to them that Jesus is God. What?  I read this verse with new eyes and realized how much we have failed.
I'm not here to give some shpeal about how we can become unified and join together as One Church. I doubt that will ever happen in my lifetime and if it ever occurs, it will be a supernatural work of God. I'm also not here to shame or belittle the thousands of denominations that exist. (Most) are my brothers and sisters in Christ, whom I love as a result.
But I do think living in unity, in our individual church bodies and church families is an important place to start. And I mean true Oneness and unity, as can only be found in Jesus. 
But more than anything, I simply want to remind us all of the heart of God. His heart desires, loves, and exalts unity. Oneness is God's heartbeat–to see His children unified, to see us living "…in a manner worthy of the calling to which you have been called…eager to maintain the unity of the Spirit in the bond of peace.There is one body and one Spirit—just as you were called to the one hope that belongs to your call—one Lord, one faith, one baptism, one God and Father of all, who is over all and through all and in all." Ephesians 4:1-7
We cannot love the Lord Jesus Christ and simultaneously worship at the altar of division. Either we are One Church or we are not. United not by doctrine or theology, man-made traditions or rules, but held fast by the One who makes us family.
So, what is your denomination? What do you tell people when they ask? How do you feel about denominations in general? How can and should the church be more unified?