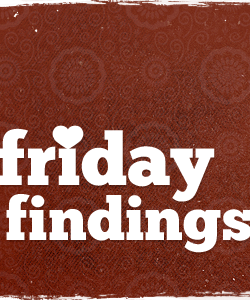 Friday, sweet Friday. I'm so glad you are here. Although, this weekend I'll be flying as a solo parent, as my film-junkie of a husband will be traveling to California to attend an all day Oscar film marathon. That leaves me and the 3 wild monkeys alone all weekend. No, I'm not scured…Well, maybe just a little. Nothing some Beyonce "crazy music," (as my daughter likes to call it) and some mint chip ice cream can't solve (the ice cream is for me, not them, by the way).
So here's to Friday and here's what I loved around the web this week:
If I were an Atheist. What could lead you to atheism? This is a thoughtful and well-reasoned post.
10o Ways to be Kind to Your Child. Usually lists like this are so corny, or trite, or over-done that they fail to offer anything new. This post is not one of those. I even got a little weepy while reading it.
I happen to consider myself a professional napper. If you are anything like me, then you'll enjoy this inforgraphic on Everything You Need to Know About Napping. So fun.
Are you familiar with this iPhone app? It appeals to my inner geek which loves all things retro.
Introverts get such a bad rap, especially in the church and especially in leadership. Carlos Whitaker, who is clearly not an introvert, went ahead and wrote about it anyway. This makes me happy.
My blogging friends the former Ally Spotts (now Ally Vestefelt) and her new hubby Darrell Vesterfelt are now the directors of Prodigal Magazine–a magazine for the everyday Christian. Try this post on for size, to get started. You won't be disappointed.
I'm bi-racial which, while often doesn't mean much of anything, occasionally this fact will throw me for a loop when it comes to understanding my identity. That's why I so appreciated Tony Alicea's post this week on your heritage and righteousness. So good.
Also, tomorrow is the last day I'll be accepting submissions for the "I'm a Reject, Because…" series. If you'd like to share with others here on Modern Reject as to why you're a reject, here's your chance. Send me your post. 300-500 words. Hope to hear from you.
 Now it's your turn. Share with me the cool, interesting, funny, inspiring, or challenging things you discovered this week.