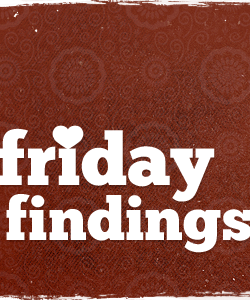 Friday, sweet Friday. I had a lot of fun blogging this week. I mean, it's always fun, but it seemed like I had many more meaningful interactions with you all, whether in emails, on Facebook, or via Twitter.
It is always so encouraging to feel like I know some of you, without having met you in real life. It makes blogging so worth it.
I also happened upon some good reads and a few other interesting tidbits this week. Here's my Friday Findings…
Don't Invite Jesus into Your Heart. I listed this phrase on my Top 10 Christian Phrases I Never Want to Hear Again post, which was syndicated on Churchleaders.com, where a few readers attacked politely disagreed with me for adding that one. Well, lo and behold a pastor wrote about the same thing, only much more in depth, and I love it!
Feminists Make Bad Christian Wives. The lovely Nikki Weatherford, blogger, wife, and mom extraordinaire, wrote a great post called 10 Reasons Why I'd Make a Terrible Feminist. I'm not gonna lie…I wish I had written this.
Social Media and Evangelism? When you think of evangelizing, is social media one of the last things that comes to your mind? It is for me, but Peter Guirguis started the relevant, challenging, and practical site called Not Ashamed of the Gospel which exists to encourage believers to reach people with the Gospel via social media. I think it's a brilliant idea.
Jesus Has Blue Eyes. One of the most beautiful, compelling, convicting, and inspiring things I've read in a long time. I don't want to give anything away. Just go read it!
All Kinds of Awesome. The other night, I seriously lost 20 minutes of my life on Buzz Feed, perusing lists like this one and this one. I was laughing out loud, tears were streaming down my face, and it was pure awesomeness.
Measuring Yourself. And it wouldn't be a true Friday Findings if I didn't mention something from Frank Viola. His post The Peril of Measuring Yourself Against Others is a pitch perfect commentary on the dangers of comparison, stats, and rankings, and the need for true discipleship. If you are a blogger especially, read this.
I'm Getting Ads. Okay?  First, a bit of MR housekeeping…If you ever signed up to receive posts directly to your inbox, only to find you never received a single one, I apologize. I suck. Well, technology sucks sometimes. Anyhoo, it's fixed, along with some other buggy things that were bogging down this here blog. Also, I wanted to ask you all if you would be terribly offended or run away if I started running ads on Modern Reject?
Because, I think it's time. I used to feel conflicted about the issue, like Christian bloggers shouldn't make a penny for writing. They should just be all pious and poor and stuff. But after reading a post from Micheal Hyatt about monetizing your blog without selling your soul, I changed my mind and have decided that ads aren't immoral. So, hopefully you won't mind once those precious little money-makers pop up in the next week or so.
Alright Rejects, what have you got to share with the rest of us? Something funny, shocking, weird, touching, none of the above? Let's hear it!