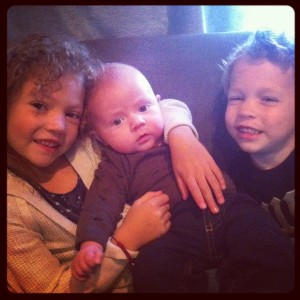 Ever feel like you don't have much to be thankful for or that thankfulness is not flowing freely from you? Well, I decided to sit down and write out 27 ways God has blessed me (27 just seemed like a nice number).
I figured, for starters, it would shut me up and prevent me from whining or complaining, thinking that God really hasn't done that much for me. Secondly, I would be forced to remember all that He has done, which is infinitely more than 27 things…and that alone is humbling and challenging.
So here are 27 ways God has blessed me…
1. I'm alive. Sound corny? Well, maybe, but I shouldn't be alive. More of that in another post at another time.
2. I have babies. I was certain, because of my past life of sin, that I would never be able to have children.
3. I'm married to the perfect man…well, perfect for me. I was also certain because of my past sin that no man would ever want to marry me…at least not one as Godly and wonderful as my husband.
4. I have a restored relationship with my dad.
5. I have a restored relationship with my stepfather.
6. Somehow, despite the financial struggle to do so, I graduated from college…with very little debt.
7. My in-laws, who are not anything like "in-laws". They are like an extra set of wonderful parents.
8. Heck, my husband's whole family is my family. They treat me like I have always been a part of theirs.
9. I have been radically transformed from being the rude, selfish, unkind, snotty girl I once was.
10. I have this blog, which is a blessing to me each and every day. Why? Because of you. No joke.
11. Donuts exist. I consider this a blessing from God, yes.
12. Even though I lived a sexually promiscuous life previously, I was protected from STD's and an unwanted pregnancy. I think of this fact from time to time and am still amazed at God's hand of protection.
13. My health. I mean sure, I get migraines and have weird Fibromyalgia type symptoms, but overall I am healthy. I don't know about you, but I so often take my health for granted.
14. Being financially able to stay home with my kids. I don't take this for granted.
15. Having true friends, which I longed for and asked the Lord for in prayer, for many years.
16. My home, especially since lately I've been feeling antsy to move, and God has gently reminded me to instead look and see all that I have.
17. My mom, who worked three jobs, put herself through college, and raised me by herself, yet was somehow able to attend every parent teacher conference, every dance recital, and every other thing. Amazing.
18. My baby, Beckett. Yes, I know I already mentioned my kids, but my third child was a direct and overwhelming answer to years 0f prayer.
19. The opportunity to travel. Of course, they are so many places I'd still love to go, but the fact that I've been anywhere is more than most people get to experience in their lifetime.
20. The radical, life-changing, relationship-transforming moment when I repented of all the wrong things I used to think about God the Father. The moment when I asked Him to forgive me for thinking He was anything like my earthly dad, and the immediate, instantaneous, powerful change in my spirit and mind that followed.
21. The Body. I cannot imagine who I would be or where I would be, if not for the Body of saints.
22. Every email, message, or tweet from one of you, telling me that something I wrote edified you, convicted you, challenged you, or helped God speak to you.
23. Hulu. I'm just sayin'…
24. The Word and especially Phillipians 3:12, which were the first verses I memorized upon knowing Jesus and which still continue to be a major source of encouragement and help to me.
25. Grace…all of it, every drop, every bucket, every single time. I am overwhelmed and in constant awe of God's grace.
26. God allowing me to participate in His plan, using me despite my being so undeserving, to impact His Kingdom however slight. I'm humbled that He uses me and I'm beyond thankful each time He does.
27. Jesus, continually chasing me and pursuing me, that I might know Him more, and in doing so compelling me to chase Him right back.
How has God blessed you? From the biggest things to the smallest things? What has He done to display His love, grace, and future plans for you?