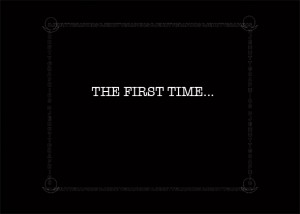 Most people love "firsts". The first time we experience something new. The first time we meet that special someone. Our first kiss. First job. First day of school. First date (okay, well maybe not this one).
The start of the new year is so full of promises and potential firsts…and 2011 is no different. I am imagining the way the year might go. I know it is going to be a year filled with firsts. I recently read this post, from a blog I'm loving, that inspired me to be thinking of "firsts."
There are things to come in my life (which I will be announcing soon) that will be brand new to me. So, as I look forward to a 2011 filled with newness and never-before-experienced events, here are a few of my Favorite (First) Things.
First big purchase. As a kid, did you ever save up every penny, just so you could buy that totally nifty, super cool gadget or toy that you just had to have? My first big save up purchase was a pair of roller skates. I was sure that my life would feel complete once I had those skates. Little did I know that I would later break an arm on said skates.
First album. I remember the year my parents bought me my very own record player and one album to go with it–Michael Jackson's Thriller. It is still one of my favorite albums of all time.
First kiss. I remember my first kiss. I was waaaaay tooo young. It was at a birthday party, in the backyard, while the parents weren't looking. I hated it. Everyone watched us. But, my first kiss with my husband was picture perfect–in a kitchen, with candles burning, and John Coltrane playing in the background. A great first.
First baby. I did not feel ready to be a mom when I had my daughter. I stared at her and could not believe she belonged to me. And what the heck was I suppose to do with her? I will forever have the memories of my first baby girl, burned into my brain. I became a woman and she helped me along.
First real job. My first "real" job–you know, a job job–was one with a salary and benefits and business dress required, in which I worked for the Alliance Defense Fund. I was a "Development Representative." I admire that organization so much for the work they do in the Lord's name. I felt like a grown-up working there and I learned so much about our culture.
First time God spoke to me. I'm sure He had spoken to me before, but this particular time was the first time I heard Him in an audible voice (and no, that is not an ongoing occurrence). He told me not to go to a friend's house. I went anyway. Oh, I still regret this epically stupid move. On my way home, I totaled my car when a woman ran a red light in front of me. It was my 18th birthday.
First time I learned about my spiritual gift. I am of the belief that we all receive a spiritual gift (a post soon to come). I remember when I discovered mine. I was in my now driveway and my soon-to-be-mother-in-law had helped me uncover the answer. I suddenly saw things in a whole new light. My spiritual goggles were placed on my face, so to speak, and things became clear.
What are some of your favorite firsts? First kiss? First memory? First love?
post image here