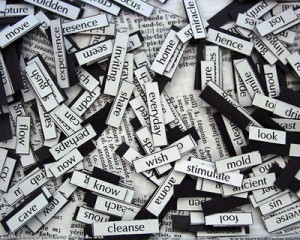 I am not too fond of New Year's Resolutions. Why would I make a list of goals, too strenuous, time-consuming, and impossible to keep? What fun is that?
I'm all for setting goals (sorta), but resolutions are just the list of things we never quite accomplish and then get down on ourselves for not completing.
When I first met my husband, however, he introduced me to a different way of starting off the New Year. You pick a word. A simple idea–one word, to focus on, meditate on, and reflect on for an entire year.
Only, be careful of the word you choose. My first time choosing a word, I made a huge mistake…
I was so inspired by my soon-to-be-husband's suggestion at the time, that as I was driving down the road, I uttered something like this…
God, You are so Wonderful. All of the good things that are in me are of You. I have nothing good in and of myself. I want to be humble before You. I choose the word "humility" for the year.
Little did I know that in selecting the word humility, I was about to be bombarded with an onslaught of threats to my self-esteem unlike I have ever experienced before or since. You ask for humility, you better believe the Lord will deliver.

First, for some reason, I chopped off my hair–way off–months before my wedding. The haircut was awkward and looked more like someone had placed a cheap wig upon my head. I began to refer to myself as Keebler, because let's face it, I looked like a boy elf.
Weeks later, I was fired from not just one, but two jobs. My self-esteem was in the toilet. Talk about being humbled, and not in the way you would expect. I was clinging to God. And I suddenly realized how unhealthy my attachment to my hair really was (but man, I have great hair).
The next year I chose my word wisely. The year after that, God gave me a word.
This year, for 2010, my word was "victory." I had spent some time praying and had that word come to mind. I got very excited. Victory. Victorious. Success. That sounds good right?
But then I realized that, while God was promising there would be victories in 2010, I was not exempt from having to fight the battles in order to achieve those victories and…there have been battles.
…Battles within my family over God and faith. Battles regarding my health. Battles to finish what I've started, even though I've wanted to quit. Battles to resist forming idols.
Every year has battles, it's just that this year I went in knowing they would be ahead of me and yet reassured that there would be great victory.
What could have been detrimental to my relationship with my family, God  transformed. When I felt like I couldn't get out of bed some days because the pain was too much, God gave me strength and perseverance. When it would have been easier to just quit blogging, God gently reminded me  to finish what I started and you all–yes you–reminded me that it is worth it.
My word for 2011 is yet another word that God spoke to me. It is certainly not one that I would have chosen on my own: surrender.
Surrender sounds like a nice Christian word. We toss it around from time to time, but it involves much more dying to myself than I happen to be comfortable with. But, He chose, not me and now I get to practice my word and just… surrender.
Do you make resolutions? Do you keep them? Have you ever tried choosing a word? Do you have a word in mind?
post image here