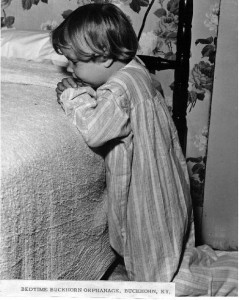 …at least, the way you are currently praying.
I know, I'm tricky. Sorry for that. I haven't written specifically about prayer on Modern Reject before. I think it's because when I think of prayer, I admittedly get a little sleepy. I do not find prayer to be the most exciting of topics. That alone is a problem, I admit.
In reality, however, God has chosen the system of prayer to accomplish His will through His people. That fact alone should compel us to pray more. However, praying more isn't enough. If we want our prayers to be powerful, effective, and relevant, we have to quit praying the way we have been praying.
Have you ever prayed a prayer similar to this when seeking the salvation of someone you know:
"Dear God, please save ____. They need you," or "Please bring ____ to salvation, Jesus."
This isn't bad by any means, as this post How to Pray for an Unsaved Loved One points out, but it fails to get to the heart of the issue. Part of the problem with our prayer life being ineffective, is that we fail to understand what scripture says in regards to our specific prayer request.
For example, we do not ask the questions of "why"? Why are some saved and some are not? If we understand scripture, then we know that God can save everyone and that He desires to save everyone.
Isaiah 59:1 says, ""Behold, the Lord's hand is not shortened, that it cannot save; neither His ear heavy, that it cannot hear."
C.H. Spurgeon in his sermon Why Some Seekers are Not Saved says this in regards to the Isaiah verse:
"This passage proves that the power to save remains unimpaired with God. Just as of old He forgave great sinners
through the atoning Sacrifice of His well-beloved Son, so is He able to forgive great sinners now!"
So if we know God can, then why isn't He? Again, we have to look to scripture. 2 Corinthians 4:4 tells us that "the god of this world has blinded the minds of the unbelieving so that they might not see the light of the gospel of the glory of Christ, who is the image of God."
If those we care about, who have yet to know Christ are "blinded" so that they may not "see the light of the Gospel," then we must pray for them to "see." We must pray that their blinders be removed. Specific prayer gets specific results. Detailed prayer produces detailed results.
This example applies to all areas where we may be seeking God's will, whether it be a health issue, a relationship issue, the need for freedom in a particular area–anything. It is not only useful when praying for someone's salvation. The point is that we should know what the Word says about an issue before we beseech God on that issue. We can then pray more effectively and efficiently.
I had read in a book called Destined for the Throne that some Biblical scholars have translated Matthew 7:7 as Jesus literally begging us to pray. "Ask, I ask you to ask; seek, I entreat you to seek; knock, I urge you to knock."
Which brings me to the second point, which is that, not only do we often know what to pray, we simply do not pray enough. I wish I could resemble a Mother Theresa type figure and spend countless hours a day tucked away and praying to my God. Instead, I prioritize Starbucks drive-thru, Facebook, and more time then I'd like to admit flipping through fashion magazines (it could be worse; it could be Star magazine).
I have often sat perplexed and yet convicted by the fact that Jesus, during His ministry, would often steal away from the crowds and His own disciples to sit quietly and meet the Father in prayer.
If Jesus, the Savior and the Messiah of the world needed to prioritize prayer, well then, surely so do I.
I could list the many benefits of prayer, beyond the obvious one of having our prayers answered. But you already know, so quit praying the way you may have been praying. S.D. Gordon said this: "The greatest thing anyone can do for God or man is pray."
How is your prayer life? Do you pray as much as you'd like? What else would you add, as far as helping prayer to be more effective and powerful?