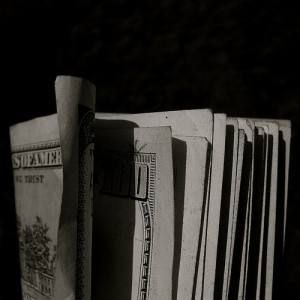 I have been thinking a lot about money lately. Cash money. Bills, Benjamins, moolah…
Mostly, I think it is because following the ridiculous expense of Christmas (which I am neither condoning nor renouncing) and entering the new year, ripe with possibilities, my mind comes to thoughts of money–how much I have, or don't have. How much I want or think I need.
I have an unhealthy relationship with money, though. I think of that expression, "easy money."  Even though that refers to making money, the issue of money has not always been "easy" for me. Money has never been my friend. We have shared a few good times, sure. Inevitably, though, I always talk bad about money behind its back and say things like…
"Ugh. I hate money. I wish we didn't need money. Let's just move to an international barter system."
"Where is all my money? It's like it just runs away from me…"
"I resent you money! You make me feel burdened and tense, but I think I need more of you."
Growing up, we didn't have much. My single mom worked three jobs to put clothes on my scrawny back and food on our kitchen table.
I always sensed that we didn't have money, even though it was never discussed. I knew there were clothes other kids had that I would never see hanging in my closet. I knew we would never take a lavish vacation, or throw caution to the wind and dine at some local gourmet restaurant.
I'm not throwing a pity party, though. I was painfully aware of these things and yet I never (beyond 8th grade peer pressure to own Vans and MC Hammer pants) felt that I was missing out. I was loved, cared for, encouraged. Cliche? Yes. True? Definitely. Even now, I am grateful for my upbringing. It has given me a desire to give more and take less. It has helped grow my heart in gratefulness.
What I didn't know, however, was that my money memories as a child (or the lack thereof) would permeate my current view of money.
Because I didn't have much money growing up, I find myself today–as an adult, wife, mom–irresponsible with it and begrudging of it. Yet, I simultaneously secretly desire more of it for security, but also to experience the things I didn't as a kid. I feel like some kind of financial schizophrenic.
I'd hate to imagine how I would handle my money if I wasn't a Christian. Thankfully, I have it pretty much settled in my mind, that all material possessions are the Lord's, not mine. That doesn't mean, though, that if He asked me to sell my few, precious Anthropologie pieces and move to Africa to live in a hut that I wouldn't cry. I would. I'd ball.
What I need to do is settle in my heart that all things I have in the material sense really are the Lord's. It all comes down to trust. Do I genuinely believe that God has got my back and has good plans for me, even financially? That doesn't meant I'm expecting or asking to be rich. I just want to experience freedom in regards to money.
I do not want to feel weighed down by it, or my perceived need for it. I don't want to feel guilty for having it or sad for losing it.
I don't want to feel like that little 6 year-old kid with no concept of money, and yet all too aware of it's control over our lives. I never want to feel like I'm missing out because in God's economy, I won't. In His economy, I'm rich…filthy, stinkin' rich.
How do you view money? Do you have a healthy or unhealthy view of money? How do deal with pressure to make money or have things?