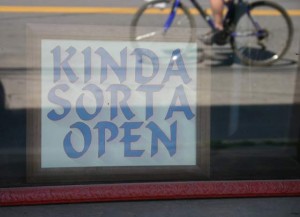 I fully intended, like I do every Friday, to have yet another Favorite Things today. Alas, I have not been feeling well this week and opted to skip today's usual installment.
I'll be back Monday with some amazing, mind-blowing, thought-provoking post…just as soon as I figure out what that is.
So in lieu of a traditional Favorite Things post, here are some of highlights from my week. Won't you share yours too? I'd love to hear how God surprised you this week.
My husband went on another business trip and usually I lay awake at night hearing bumps in the night when he is gone. This time, I slept great and woke up feeling pretty stinkin' good.
My daughter cracks me up minute by minute and said to me the other day, "I'm feeling so old. I'm feeling like a mommy." I laughed because I feel so young and she already thinks I'm ancient.
My Tuesday post, 5 Things I Hate about Blogging, turned into an "I heart Modern Reject" fest, which I was totally humbled by and totally blessed by and totally surprised by. Thanks again to those of you who encouraged me. If you haven't and you're interested read the comments here.
I found a really great pair of strappy, metallic sandals for 20 bucks. Score. Now, I'm just praying that my feet will not swell to the size of footballs this summer like they usually do when I'm "with child."
Upon my husband's arrival home from his business trip, my 2 1/2 year old son yelled, "Daddy! Daddy! I missssed you." Go ahead, let me hear it….ahhhhh. So precious.
My dog, a 6 month old rescue puppy named Lolo, moved like a stealth ninja and ate my son's poop from his potty seat before my husband could empty the darn thing. Disgusting? Yes! Best part? It happened on my husband's watch, not mine.
I disciple 3 young women and met with all 3 of them this week, which is rare. I had such a great time. Whenever I feel inadequate about what to say or how to instruct, the Spirit shows up. Plus, I always leave feeling more blessed then they do, I think.
I'm reading Francis Chan's Crazy Love right now and really digging it. I feel convicted to love Christ more intimately and yet am inspired by God's majesty and grace.
So there are a few of my week's highlights. Do you have any to share with me? What is God doing? What rocked this week?
post image here