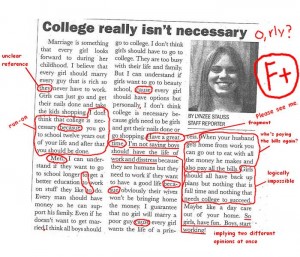 This post is from the archives and it's really good and you should totally read it.

I attended college, but I'm not quite sure why. In America, many young high school juniors and seniors begin the search early for the perfect college. They fill out their applications, write their essays, attend their interviews, all in the quest for…
For what? A guaranteed salary upon college graduation? A better life? Or a cushier life? Power? Position? Prestige?
After graduating college, I wondered what I had really learned in class anyway?
Maybe you're like me and are wondering if you should skip college?
Most of the knowledge and wisdom I gained was done so through work experience, friendships, romantic relationships, and the Lord. I could have skipped the $20,000 a year price tag, grabbed a backpack, hiked through Europe for a summer, and come out just as "smart" as the most recent college graduate.
In my years following college, I have realized, too, that I favor commonsense over education and academia any day of the week. In my experience, excessive academia produces individuals so bogged down by process and information that they lack the commonsense and critical thinking skills to find their way out of a paper bag.
So reason #1 why you should skip college: because commonsense is free and far more valuable than a college degree. Commonsense is a lost ideal in American culture and has been replaced with "education," an inadequate substitution. And forget "wisdom"…that word is reserved for the ultra-religious, not mainstream America.
Reason #2 why I think people should steer clear of college goes hand-in-hand with the first reason. Colleges are immoral, secularized, liberal factories where a kid goes in fresh, impressionable, and full of wonder, coming out an anti-God, anti-American, anti-thinking drone.
Okay, am I exaggerating a bit? Maybe a bit, but just a teeny tiny bit. There have been many studies done proving that the higher the education you receive, the more likely you are to be a liberal, which is not in itself bad, but as a whole, I do not support liberalism as the desired course for America (which is another post for another time).
More than that, colleges should be unbiased institutions teaching young people to think for themselves, not think a particular way.
Reason #3: College is simply overrated and over emphasized for the wrong reasons. American culture today tells children that grades and performance are important. In fact, children hear the message that grades and performance are more important than character or integrity.
College then reinforces these ideas, in a performance-based vacuum. I would rather a child be full of integrity and display a dependable character than be able to produce an "A" on a woman's literature course. But hey, maybe that's just me…
Reason #4 to ditch college–it's an obvious one. College is wicked (use of "wicked" thanks to my college being in Boston) expensive. More and more college students are unwilling to take out student loans. It's just not worth it. According to a recent survey, about two-thirds of freshmen said "they were either somewhat or very worried about their ability to finance their college educations." Poor little fish are stressed enough as it is, without the added burden of worrying about how to pay for their stress-inducing classes.
Reason # 5: Steve Jobs, Tom Hanks, Bill Gates, Brad Pitt, Ted Turner, Frank Lloyd Wright, and Mark Zuckerberg were all college dropouts. (Hey, where are all the ladies?) If you are at all interested in entering the Web 2.0 world, being a college dropout is a prerequisite. If you want to be a neurosurgeon, mechanical engineer, or President, stay in college. But if you are headed for a B.A., masters, or Ph.D. in some liberal arts study…go ahead, dropout…and reap the rewards.
So there you have it–a few great reasons to avoid college. If you have already attended and graduated, no worries, so did I and look how I turned out. Wink wink. If you are currently a student, please share your thoughts, too.
Are you a proponent of college? Why or why not? Are you a college dropout? What's your beef with colleges, if any? If you loved or love college, why?
Psssst…Tomorrow's post will be on the topic of church diversity. Be sure to check it out.