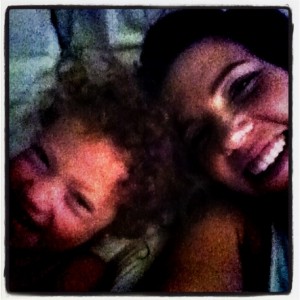 Riley Grace, where do I start? Your birth five years ago marked my life. As my first born, you represent my introduction to motherhood–with all of its tears and confusion. You also represent the beginning of my life as a mom, something I will forever claim.
You, sweet daughter, are the life of the party–any party. And if there isn't a party, you are determined to either find one or start one. You love people, more than perhaps anyone I know. Even as a baby, you would scan the room for other kids and then yell out in a sweet 9-month-old-voice, "Hi! Hi!"
Riley, you love life and you love being alive. Everyday is wonderful in your eyes and that makes my days more wonderful too.
You also love God, with your whole heart. Before you could even articulate your faith you could say "Jesus" and it seemed that even then you understood who you were speaking of.
God seems real to you in a way that I find both inspiring and intimidating. I'm not gonna lie, you have more intimate, consistent times with the Lord than I do. I'm jealous…and convicted. You will go into a room by yourself, close the door, and spend time singing and praying to God. You return refreshed and smiling.
Riley, it is also no surprise that those around you, family friends and even strangers, adore you. You capture hearts wherever you go. You are also one of the funniest people I know and you never disappoint in the funny department.
However, I'm not gonna let you get off that easy. You are also a stubborn little girl, who once fixated on something has an almost impossible time of letting go, which results in some difficult bedtimes.
Your stubbornness is a challenge for your dad and me, but we have no doubt that God will use your resolve to bless His name…it might just take a while.
I love you Riley. I love your sass and your heart. I love your love of fashion and accessories. We will be great shopping partners in crime in the future. I love your creativity and imagination. I love imagining who you will become and what you will accomplish in life.
More than anything though, I love how much you love God and His Word. I love that you already, at the age of 5, bless His name and tell others about Him. I cannot wait to see how God uses you Riley, to further His Kingdom. His plans for you far surpass my own and I am breathless at the thought.
Happy Birthday to you, my only daughter.
love,
me