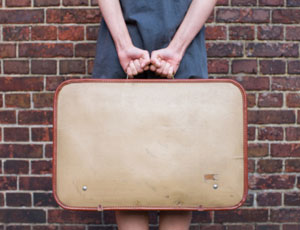 Most of us who have been in the church for any amount of time have read the story of the prodigal son.  A young man, sets out on his own, only to squander his inheritance, forcing him to return to his father's home, broken and penniless.We have perhaps even heard a few sermons preached on this parable. And from time to time, we may have even heard others (or even ourselves) refer to people we know as "prodigals."
What we usually mean when we say this, is that so-and-so had walked away from Lord, but has now returned. They came back to the Lord, just like the son who returned home in the parable Jesus spoke.
I used the word prodigal from time to time and I'm embarrassed to admit, I didn't really know what it meant. I assumed I knew and that was enough. Until one day, I heard a wiser older Christian in my life explain that when you run across a word in scripture that you don't know, you should find a dictionary and look it up.
How novel, I thought. How very elementary school.
But one day, when reading my Bible, I found myself at the story of the prodigal son. Of course, the word "prodigal" isn't actually used in scripture, but I suddenly had the idea to find that oh-so-childish-dictionary.
I was surprised to find that the word "prodigal" actually has nothing to do with the concept of returning or coming back to anywhere. In fact, it means something different all together.
But what is perhaps even more surprising, is that the real definition of "prodigal" did apply to me. I was a prodigal daughter and all that time, I had had no idea.

I was a prodigal daughter because just like the definition says, I was:
"Wastefully or recklessly extravagant; giving or yielding profusely; lavish; lavishly abundant; profuse."
If ever a definition fit me, this was it. I was struck with the reality of the prodigal story and how it had become my story, as well. Two years after coming to know and believe in Jesus, I walked away from Him, deciding that the Christian life was just too hard. I didn't know how to live an empowered and fulfilled Christian life.
I didn't know how to let the Holy Spirit guide me and be my source for all that I needed. So I decided that doing my own thing would just be simpler. That I knew how to do and that I could do well.
And so I said goodbye to the Christian life and spent 2 long years consumed with my own reckless behavior, filling myself with anything that would help me forget the Truth– sex, drugs, material things. Eventually, I lost everything. I was brought to a point of complete desperation and knew that I had no choice, but to return to the Lord. I knew that my only hope really was in Him.
But my eventual return to the Lord is not what makes me a prodigal daughter. While yes, I eventually returned to my Father, I also squandered and wasted His riches while I was away. I defined what it meant to be a prodigal.
What I had failed to realize during those 2 years apart from God, is that upon knowing God, each and every one of us is filled with His Spirit. I mean, I knew this intellectually. I could recite verses to explain this mysterious and supernatural occurrence.
But what I didn't really comprehend was that God was living inside of me, taking up residence in my very being–the indwelling of Christ.
So, that when I chose to be reckless and irresponsible with His gifts, I was acting as a prodigal daughter. When I told the Lord, for example, that I could make my own decisions, I was being wasteful with the very Spirit of God inside of me. How often, I have used the gifts of God for my own purposes, extravagantly lavishing them on the world, instead of using them to further His Kingdom.
And if like me, you ever found yourself far from your Father's house, what ultimately led you back?  Like the son in the parable, did you simply return home because you found yourself destitute and starving? Perhaps this a portion of why we return to the Father, but what really brings us home is repentance.
The son had changed his heart. I had changed my heart. I no longer wanted to do the things I had done. I wanted to repent.
The parable of the prodigal son is really about repentance. It is really a parable that reminds us that His kindness leads to repentance. It reminds us that no matter how much we may squander and waste the Lord's resources and gifts, we are always able to return home when we do so with a repentant heart. The Lord will always welcome us with open arms. I was a prodigal daughter, but now I am home…just where I was meant to be.
Have you ever walked away from the Lord? Or have you ever felt that you have wasted or squandered the gifts the Lord has given you? If so, how?