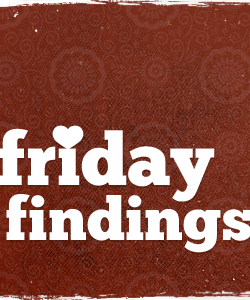 I survived the week, in part thanks to you. I also found some great reads this week. Happy Friday Findings…
Funeral Director at Large. The blog of Caleb Wilde, funeral director, is fascinating. His post, The Mourners Bill of Rights, is full of practical wisdom and grace. If you have ever had a loved one die, you will find solace in this post.
Gospel Centered Discipleship. That's the name of a new book and I have to say, the title caught my attention. I read the forward to the book over at Matt Brown's blog and I'm hopeful about this one. Here's a taste: "I have become painfully aware that people tend to drift away from the gospel soon after their conversion and begin to try their hand at sanctification." Sounds promising, right?
Do These Pants Make Me Look Fat? Allison Vesterfelt went for it and asked the age old question that no man ever wants to hear, but her response is not one you would expect. Which shouldn't be surprising coming from Allison.
Vertical Church. So, I'm not a big conference type. I mean, I'll go occasionally (like my trip to Catalyst this October), but usually it's not my cup of tea. However, I was recently invited to attend the Vertical Church Conference and based on the vision, I can't wait. Maybe there's one coming to a town near you…
Go on, Castrate Your Husband. Nikki Weatherford wrote this hilarious, tongue-in-cheeck, and yet truth-filled and wise post about how women can go about castrating their husbands. Does it sound intriguing? It is. Check it out!
A Choice in Your Loss. Often, well-meaning individuals can ask the wrong questions at the wrong time, but God can still provide an answer. Alece Ronzino, shared over at a Deeper Story this week, about how we never really get on "the other side" of a tragic loss. One of my favorite reads of the week, for sure.
Lusting After Food. This is an interesting read about our cultures food porn addiction. I have to say, I might have a beautiful food addiction. It's all those sexy asparagus stalks and voluptuous heads of broccoli.
So, what caught your eye this week? Anything you care to share? Or heck, how was your week?