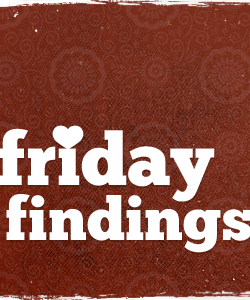 Holy wow, what a week. So far, this week is shaping up to be the biggest week on Modern Reject ever, in terms of traffic. There are a few lovely surprises that contributed to this fact.
For starters, I was honored to be included on Church Relevance's Top 200 Church Blogs list for the second year in a row. I even moved up 7 spots. Yeah baby! I owe you, my readers, a huge virtual hug and kiss. Thank you for being a part of this community and for being a constant encouragement.
Then, the amazing servant of Christ who I am admittedly a little bit of a fan-geek about, Frank Viola, included me  on his Top 10 favorite  Christian Female Bloggers list. I tweeted in response that I can now retire…and it's true. It's all downhill from here.
But, beyond both of those honors, this weeks posts on Modern Reject created some of my favorite discussions in quite a while. If you missed Monday and Tuesday's posts on prophecy, please consider reading them. If you've ever had questions about prophecy these posts are for you…and don't skip reading the comments too.
Finally, I wrote a guest post over at the ever-talented and culturally astute Jr. Forasteros' blog yesterday. I think it might be one of my favorite posts of all-time and it's about sex. Please, go show some comment love if you haven't already.
Phew. Now that we got all of that out of the way, let's get to those fabulous Friday Finding links…
14 Religious Lies. I discovered the blog of Jim Palmer from the talented and lovely Sarah Bessey. His post, 14 Religious Lies, is pure brilliance. I wish I had written it. I might steal it (shh…don't tell).
Challenge the King. Scott Williams is the coolest guy on the Internet. I'm convinced. So if you are unfamiliar with his blog, Big is the New Small, go check it out. Scott writes about leadership in the Christian sphere. His post, Great Leaders Must Challenge the "King" is right up my alley. You know, since I love to challenge the status quo and all. I am a reject, remember?
Be Saved Checklist. My brother and friend Donald wrote this post a few weeks back and I realized I had forgotten to share it here. It is genius. Simplicity at its finest. Convicting and hilarious all at once: The List of What You Must Do To Remain Saved.
5 Things I Wish I Had Known Before Marriage. Allison Vesterfelt continues to churn out challenging and inspired writing. This post is actually by her husband about the things he wishes he had known before marriage. It's honest, funny, full of wisdom, and full of grace.
Free Christian Art. Here's a link to a cool art piece displaying Psalm 139:18 from Contented Sparrow. It's a free printable. Hit "print" and hang. Cool.
Earthquakes and Nuclear War. Do you read Dooce? Most people do or have at some point. I find her to be just about perfect. Her irreverence,  humor, sharp-tongue, and biting sarcasm. She is a lot like I used to be, whether good or bad. This recent post is a display of her great writing and not so subtle questioning (more like dismissal) of God. I appreciate her honesty when it comes to God. I wish more Christians were this honest.
East to the West. My blogging friend, the teaching dynamo Bianca Juarez suffered from a very scary and quite dramatic injury a few weeks ago. (You can read about that here.) SInce then, she has not been allowed to type, meaning she hasn't been blogging, meaning God has been working. Her latest post is a gentle reminder of who we are in Christ, even when we are unable to "perform" or do the things we think we need to. I was blessed by this post.
Bloggers, Come One, Come All. Are you attending the Catalyst Conference next week by chance? I am and I'd love to see you there, if so. If you are a blogger too, have you signed-up yet for the Blogger Meetup happening at Catalyst on Wednesday the 3rd? You should! You'll get to schmooze and mingle with some huge, big-name bloggers. Oh, and I'll be there too. Hope to see you there.
Okay friends, your turn. What did you read this week or what did you write this week, that you just have to share? Let's hear it.