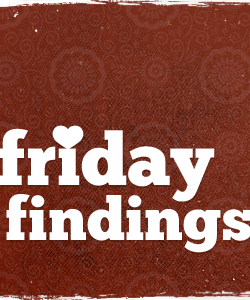 Friday, sweet Friday…where have you been all my life?
Time to share my picks of the week. Behold the awesomeness…
Strangers, Sweaty Palms, and Selfish Sinners [The story of holding that strange man's hand] | from Carlos Whitaker. Come on, I know you're curious.
I've been reading a lot lately about what it takes to become an author (don't get any ideas…I'm just reading up) and no wonder while most people believe they have a book in them, never do anything about it. The ever-impressive Michael Hyatt tells first-time authors how to get it right.
The post of the week I wish I had written from Allison Vesterfelt: The Consequences of Sex Before Marriage. Brilliant and necessary.
Because I'm married to a movie nerd which by osmosis has made me a movie nerd, I present to you The 2,000 Most Important Films of All-Time.
Giving Birth and Dispelling the Evangelical 'Born Again' Myth. Heady title? Yes. About one of my favorite-in-your-face-filled-with-Truth-posts-in-a-long-time? Um, absolutely.
Donate to Sandy. I'll admit, I rarely feel compelled to "donate" to various charity organizations. Maybe I'm a cynic or lazy or cheap (all of the above is certainly a possibility too). But, something about the Superstorm Sandy had me deep in prayer and crying out for my fellow citizens. As a result, I'm giving to The Salvation Army because they rock. Would you consider giving too? If not to them, then somewhere else…
My Pick of the Week: I like really good Christian music. Sadly, it is hard to find really good Christian music. Then CXVI appeared as an ad on my blog. Naturally, I clicked through and lo and behold, they are amazing. CXVI is a project dedicated to bringing back hymns because as they explain, hymns are "some of the richest, most meaningful, and moving pieces of music ever written." Please support these musicians. You can download 9 free songs by clicking on the ad on my homepage or buy a whole lot more for only $6.99 (P.S. while yes, they're advertising on MR, they did not pay or perk me to say this. I genuinely like their music and wanted to share).
So, got anything to share with me? I know you do. Let's have it. Also, out of curiosity, are you following the Presidential election? Any predictions? Only 4 more days!