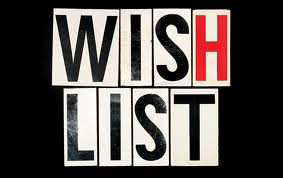 So, last month I told you guys that my word for the year was "receive." It sounds simple, harmless really, but for me this little word holds a lot of meaning.
Sitting around the table eating dinner with my church family, I told a few of my sisters what my word was and they responded with a collective "Oooohhhh…." Why? Because they know. Because they know me and they know that I have trouble receiving. It makes me uncomfortable. It makes me squirm. I feel self-conscious and self-indulgent.
And this is what God has told me in the last few weeks…
The reason I have trouble receiving is because I have trouble asking. 
And the reason I have trouble asking is because I don't always believe God is a good Father who wants to give good gifts.
And the reason I doubt the love of the Father is because my earthly father(s) are not perfect.
But, I'm choosing to believe God these days. I'm choosing to literally say out loud "Father, I believe you love me. I believe you are a good dad, who delights in giving to His children." It's become a mantra, a daily anthem cry of my heart.
And it's working.
So now as I am believing, God wants me to start asking because I cannot complain or grumble for what I do not have, if I have not asked of the Father.
Ask, and it will be given to you; seek, and you will find; knock, and it will be opened to you. For everyone who asks receives, and the one who seeks finds, and to the one who knocks it will be opened. Matthew 7:7-8
This is the verse I am leaning into and making my daily bread. Everyone who asks receives, it says. A promise.
So, I'm asking, in order to receive. I'm submitting to God my spiritual wish list, if you will.
I'm asking…
That my ears be tuned more and more to the Holy Spirit.
That my mind be transformed to that of Christ.
That the power of God be made manifest in my life.
That my heart cling to the things of God.
That holiness be my preservation.
That my children grow in the ways of the Lord and love Him wholly and completely.
That my marriage continue to be protected, intimate, full of love and grace.
That my desire to publicly speak to others about freedom be realized, on a grander scale.
That my family comes to know and trust Jesus.
That my church family grow in unity, humility, and be of one mind and one accord regarding each other as more important than ourselves.
That Jesus remain Head, forever and ever. Amen.
What do you need to ask God for today? What have you yet to receive because you have yet to ask?