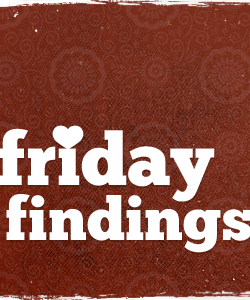 I gotta say, it feels good to be blogging again. I mean, I've missed it. I've also missed perusing the interwebs because when I wasn't blogging, I wasn't really online. So discovering again all the goodness there is to share each week makes me happy. Here you go:
The other day, I ran into a friend and he told me about a blog I needed to check out, so I did. It's called Toward Fatherhood and I'm hooked. It's funny, wise, original. I've added it to my daily read list. You should too.
Pope Francis, You Had Me at Hello, and Lost Me at Sinner. This was an interesting article and while I don't agree with it all theologically, I greatly empathize with the author's heart.
Why We Need Denominations. So remember when I wrote a post this week about denominations and you all got into it in the comments (which I love, by the way). Well a day later, I stumbled upon this post from Relevant about why we need denominations. Go figure.
This week, Rachel Held Evans celebrated her 10 year anniversary while Jonathan and I celebrated our 8th. She wrote about the myths versus the realities of marriage. I found myself agreeing with much of what she had to say. What about you?
A little Strange Fire humor. 'Cause I had to. I'm sorry. If I don't laugh, I'll cry.
A little Strange Fire seriousness and response from Frank Viola, in part 1 and part 2. These are the only articles or posts I have shared or will share about the controversy.
Sarah Bessey crawled inside my brain and my heart and my soul this week and put it all on a page. Brilliance and beauty in one, like she does.
And my favorite Friday Finding for the week: the video below. It's a bit long, but trust me–it is so worth it. If this isn't one of the most powerful and tangible displays of Jesus loving His Bride and this truth being represented in marriage, I don't know what is. It's True Love.
So which was your favorite from this list? Got anything fascinating, enthralling, or downright life-changing you'd like to share with me?