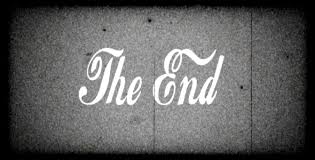 I'm not even sure how to write this post. I don't know where to begin or where to end, so forgive me if I ramble. Or cry. Or blubber all over the page.
This is my last Modern Reject post after all.
So where do I start?
This last year of blogging has left me wanting. I found myself less and less dedicated to this blog, less and less motivated, and less willing to write the kind of posts I had become known for writing. I didn't want to drum up controversy, or rock the boat, or stir the pot anymore.
I didn't want to write divisive posts or respond to angered commenters. I didn't want to defend my faith or hell, my theology for that matter. I didn't want to "make my case" or "prove my point" or "defend my position."
Basically, I didn't want to be the Modern Reject anymore and for good reason. Because I'm no longer the Modern Reject. I am not the same person I was three years ago when I started this blog. Praise Jesus. Can I get an "Amen!"?
So much has happened in that time that has changed me and shaped me, making it virtually impossible for me to go on doing business as usual.
For one thing, I had a third child, my darling adventurer, Beckett. I thought a baby would be nothing more than a bump in the blogging road, but instead he brought me to a complete halt for months while I nursed, and cuddled, and stared at him whilst also wrangling my other two children.
Then, my physical pain reached an all-time high last year, leaving me in a daze on good days and bed-ridden on the bad days. I couldn't even think of writing. It was the last thing I wanted to do. Instead, I wanted to curl up in a ball and try not to feel. God's grace and mercy has been made known to me this last year in tremendous ways, but the pain remains and it has slowed me down and made me reconsider much of what I do and why.
Also, Jonathan and I planted the organic church we are so amazingly blessed to be a part of. Nothing could have prepared me for the amount of radical change, freedom, and transformation I would encounter in, among, and through this body of believers. Members of my church family have said that my whole demeanor, countenance, and interactions with them are different from 2 years ago. Jesus does that. He makes us more like Him…and I'm grateful.
But that also means, I'm different and what once made my heart go boom no longer does. What once felt significant and worthwhile slowly began to feel fruitless and unnecessary. Truth be told, I also became a bit jaded and disengaged with the "Christian blogosphere" where the painful practices of cliques, cool kids, uniformity over unity, and theological masturbation which are present in many traditional churches are also the norm here.
Reading in Colossians the other day, this passage summed up so much of how I have begun to feel about the Christian blogosphere, as a whole:
Therefore let no one pass judgment on you in questions of food and drink, or with regard to a festival or a new moon or a Sabbath. These are a shadow of the things to come, but the substance belongs to Christ.  Let no one disqualify you, insisting on asceticism and worship of angels, going on in detail about visions, puffed up without reason by his sensuous mind, and not holding fast to the Head, from whom the whole body, nourished and knit together through its joints and ligaments, grows with a growth that is from God.
 If with Christ you died to the elemental spirits of the world, why, as if you were still alive in the world, do you submit to regulations— "Do not handle, Do not taste, Do not touch" (referring to things that all perish as they are used)—according to human precepts and teachings? These have indeed an appearance of wisdom in promoting self-made religion and asceticism and severity to the body, but they are of no value in stopping the indulgence of the flesh.
If your eyes glazed over from seeing such a long passage of scripture, I apologize. I had to do it. This passage was a revelation to me. I'm tired of reading and watching Christians judge, condemn, and berate other Christians. I'm tired of watching believers elevate their own self-made religion and regulations "and not holding fast to the Head, from whom the whole body…grows with a growth that is from God." I'm just tired.
That's not to say there aren't a whole lots of bloggers whom I respect and admire, because there are. Overall, however, after 3 years of Christian blogging, I feel ready to say "goodbye" to the whole thing. More importantly, I finally feel like the Lord is allowing me to say "goodbye" with no shame and no regrets.
——————————————————–
Of course, this isn't the way I wish I was going out. I wish I was saying sionara Breaking Bad style–you know, all on top of my game and keeping it tight with high drama and brilliant writing. But I'm not. I've slowly neglected this blog and I'm saying goodbye on a low note. I'll admit that a few weeks ago, I started crying and cussing in frustration for having let Modern Reject dwindle away. I felt like a failure, who'd accomplished nothing.
Jonathan politely told me I was being completely ridiculous and it took me a few days to realize I was. The truth is that despite the fact that Modern Reject isn't ending with it's highest ever traffic or biggest ever year, I know that I accomplished much. I know that I have much to proud of…
But I also know that none of this–NONE OF IT–would have been possible without you. You, my wonderful readers, are one of the main reasons this little blog kept churning. Your comments, social media shares, emails or encouragement, prayers, support, and general awesomeness have spurred me on time and time again. You rock more than you will ever know. And I love you.
So, thank you. Thank you for sticking with me and not giving up on me. Thank you for believing in me and this blog and continuing to encourage me to keep at it. Thank you, thank you, thank you. I owe so many of the words I have written to you.
————————————————————-
So what's next for me, you ask? A much needed break. A few more afternoon naps, I hope. Some breathing room. A chance to disassociate myself with being " the Modern Reject."
Of course, I wouldn't be me if I didn't have something else up my sleeve. Long ago, right before I started Modern Reject, I had an idea and it was one of those big ideas–one of those God-given ideas. You know the kind that could potentially change your life? I had one of those ideas. But at the time, I didn't feel equipped or capable of pursuing it. I knew I had to choose between the "big idea" and Modern Reject. I chose the later obviously. But, wouldn't you know, this blog has helped prepare me for the next thing far beyond what I could have imagined.
I can't give away too many details (forgive me for my secrecy), but in the next few months I'll be launching a whole new project that will be radically different from this here blog. If you'd like to stay in touch with me in the interim, I'd love for you to do so. You can add your email to my email list (just type your email into the box at the top of the page) and be among the first to know about what I'm doing and what's coming.
Until then, can I ask for you to pray for me? I covet your prayers. Would you please pray for my health and my pain, for God to increase my vision and my faith for the new project He is leading me into, and for favor among God and men? I would be so grateful and blessed.
Also, please know that all of my Modern Reject posts will be archived and this site will remain up. You can come here and read or re-read anytime. It'll feel just like the good ol' days. Promise.
And so, this is goodbye. Its been real. Its been fun. I've had the time of my life. Truly. I'll miss you all terribly and hope to stay connected. Thank you for everything–every single bit of it. You're my favorite. I'm so glad I know you.
With all the love, gratitude, and thankfulness in my heart,
Nicole
Feel free to share whatever you'd like with me. I'm still here reading it all and I promise to respond. xo