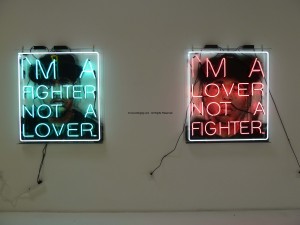 from the archives
When I thought of Jesus, I used to think of a lover. He is the lover of our souls, after all. When we see images or interpretations of Jesus in Biblical times, He is always portrayed as gentle, kind, and loving. I always used to imagine Him almost whispering His parables, as if to say, "Hush, still your hearts, quiet yourselves before me, and listen to what I am saying…shhh."
We have all seen the stereotypical Jesus painting: The Son of Man, in a white flowing robe, with children, sheep, or both, strewn around His feet.
And then I read the Book of Revelation for the first time…
I did not know what to expect as I read, but I heeded the words in the very beginning of the book which say, "Blessed is the one who reads aloud the words of this prophecy." So I read it aloud and was awakened to a new vision of my Lord.
"Then I saw heaven opened, and behold, a white horse! The one sitting on it called Faithful and True, and in righteousness he judges and makes war. His eyes are like a flame of fire, and on his head are many diadems, and he has a name written that no one knows but himself. He is clothed in a robe dripped in blood, and the name by which he is called is The Word of God." Revelation 19:11-13
I was suddenly struck with an image of Jesus that I had never had before, not only was He to be covered in blood, but He bears a name written on Him that only He knows. What would that name be? In vain, I tried to imagine what He would name Himself. I was left with no answer to that question, but instead, for the first time, I saw Him as He is: gentleness and strength, fierce and freeing– a lover and a fighter.
It is difficult for some Christians to recognize Jesus as both a meek and sympathetic Messiah come to bring peace and a Righteous King ruling with a "rod of iron." Many outside the church have difficulty reconciling these opposing ideas, as well, and use them as a means with which to call into question the character of God.
The dichotomy of God in scripture is striking. Author Rachel Held Evans, in a  post on her blog, described the Bible as "teeming with conflict and contrast, brimming with paradox, held together by creative tension." It is difficult for me to grasp the duality of God within scripture, and yet, the more I grow to know the Lord, the more this seemingly huge juxtaposition is lessened.
Jesus is God and, as God, He can be both:
The Prince of Peace and The Deliverer
A Fountain of Living Waters and a consuming fire
The Preserver of men and a jealous God
A rewarder of those who diligently seek Him and a rock of offense
A Father of mercies and He that judges righteously
God of patience and consolation and He that ought to be feared
A strong tower from the enemy and the Lord mighty in battle
My hope and my judge…
I take comfort in knowing my God not only loves me, but He fights for me. He does not just forgive me, but He seeks justice on my behalf. He pours out Grace, but also hates evil and abhors sin. He does not call me to battle to then leave me there, defenseless and unarmed. He engages in the battle right beside me with sword and shield, all the while loving me with His everlasting love.
Do you generally think of Jesus as a lover or a fighter? Is the dichotomy difficult for you? What is your favorite "God juxtaposition"? Why?