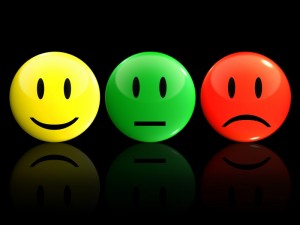 You might be thinking that this title sounds familiar and you'd be right. A while back I wrote a post called "The Top 5 Lies Christians Believe," and among them was the lie that Christians think happiness is a guarantee of following Christ.
I've had enough people write me and disagree with me on this particular point that I thought I should address it in its own post.
I'll be honest, I don't like this idea–the idea that happiness is not necessarily guaranteed to us believers. I don't like thinking that God is more concerned with my holiness than my happiness or more concerned with His glory than my good times.
But when I look at the Word and when I listen to the Holy Spirit, I have never been left with the feeling that my happiness is important. That doesn't mean our happiness is irrelevant to God, but rather less important than we tend to think.
For starters, the word "happiness" in today's culture holds a vastly different meaning than the type of happiness that the Bible describes. As Americans, we are the worst at believing that happiness is and should be a by-product of, well, life…
…and especially the Christian life.
However, the common understanding of happiness today is based upon external and outside influences. We relate happiness to events, things, places, or people. A new job, a new car, a trip to Hawaii, or our spouse. While these things can and do bring us some level of happiness, it is not the same type of emotion which the Bible describes.
The Bible more accurately describes people who are happy not because of stuff or circumstances, but because of the Lord. Psalm 68:3, for instance, says, "But may the righteous be glad and rejoice before God; may they be happy and joyful."
It is the righteous here who are happy. It is those who are rejoicing in the Lord who find gladness.
Remember Paul, too? Didn't he write that whole "I'm content in all circumstances" bit while he was in jail?!
Call it contentment, joy, or what have you. Either way, it is quite different from the limited and circumstantial type of happiness many of us are used to.
Yet, all of this begs the question: Does God want us to be happy?
I've had people write me and describe the ways in which they have found real happiness after knowing God. I've seen this myself. I have witnessed people who have gone from physically looking ill, depressed, and miserable to people having faces that literally glow.
The difference is, those people's faces were aglow with the Lord. They were not aglow with a new BMW or a 17oo square-foot condo. Their faces shone with the Light of the Lord.
So, to that end, yes, I do believe that God can and does allow us tremendous happiness in knowing and serving Him. I have never known more contentment, joy, or fulfillment than in knowing and loving Christ….
But (and it's a big "but")…
I do not believe that the Christian life is the guarantee of a happy or easy life. The opposite might actually be true. So, while I have seen people radically transformed into beaming, smiling, joy-filled believers, I have also witnessed individuals suffer greatly for following Jesus.
Do we forget that He said He would pit mother against daughter, father against son, brother against brother? Do we forget that Jesus did not come to bring peace, but a sword?
He came to bring life, yes, but following Him also requires daily death to one's self. This is not always happy, nor should it be.
Yet, what I think it comes down to is determining where our happiness lies? Are we seeking happiness in the daily, trivial, and often uncertain moments of life or are we seeking the happiness found by being rooted in Christ? I believe God is much more apt to grant the latter.
God's people should be a happy people. We should be beaming, but beaming for Him and because of Him. Knowing this does not mean following after Christ is always a perfectly happy pursuit. It simply means we can trust that, despite the tribulations we will undoubtedly face, we can always trust in Him…and that brings a smile to my face every time.
There is SO much more I could say on this topic, but am limited to a blog post. So let's hear it…Do you agree or disagree? Do you think God wants us to be happy? Why or why not? What has your own personal experiences with happiness looked like?