Discussed: Is the Christian life easier or more difficult?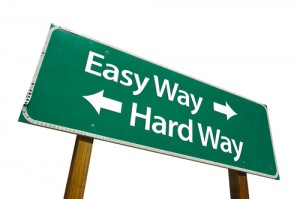 How did you become a Christian? I always wonder about people's testimonies. How did God find you, rescue you, redeem you? I was one month shy of my 17th birthday when I first met Jesus. Since that time nothing has been the same…
No, things have not been easier. Many things have been harder. No one painted an idyllic picture for me of the Christian life. I didn't know exactly what I was doing on that July evening when I said "Yes" to Christ. I just knew, in my innermost parts, that I needed to say, "Yes."
No one told me the Christian life was not a cake walk. No one was there to tell me that, while life with Christ is rich, full, and abundant, it can also be ripe with disappointment, grief, and heartache.
The Christian life is not the guarantee of an easy life. Quite the opposite, in fact. Jesus even said so….Remember all the parables Jesus shared with His disciples? "Narrow is the path", "hate your family and your own life", "sell your possessions", "the first shall be last", and so on.
The Christian man or woman, upon knowing Christ, is suddenly and all at once aware of their desperate need for God. The blinders are removed from our eyes. We see our sin, our depravity. We feel our shame and our conviction. While we serve a gracious and forgiving God, the realization of our real nature can be jarring, unnerving, and even depressing, for some.
More than that, many believers fall wrongly into believing that they can "earn" God's approval. If they just "try hard" enough, they can please Him. Sadly, they go through their Christian life feeling inadequate and unfulfilled.
My Christian life, in so many ways, has been so rewarding and full of fruit. I daily thank God for saving me from the life I almost had. That is not to say, however, that since becoming a Christian my life has ceased being difficult and, in many ways, my life has become more difficult.
My family, for instance, are not Christ-followers. I say "Christ-followers" because, if you ask them, they would say they are "Christians," but Christ is not the centerpiece of the life. As a result, some of my family members and I have had painful, hurtful, even destructive exchanges. I confess that I am not always the innocent one. My heart is so burdened for their salvation that sometimes I am either silent before them or express anger towards them. Both are sinful.
Forget me and my strained family relationships, what about missionaries going into the field? Many of them perhaps never expected, nor planned on serving Jesus in a third world country with danger as their constant companion. Is their life easier or harder since knowing Christ? I would vote more difficult, but how much sweeter are the rewards.
The Christian life is not the promise of the "good life," or even the "American life." It is, if we are obedient to Him and Spirit-led, the promise of the "abundant life". The Christian life demands our obedience, attention, focus, and devotion. Jesus purchased our lives and He never promised us a walk in the park. Regardless of what some big-time pastors–whose names I won't mention (*ahem* Joel Osteen), would have you believe–the Christian life is a life spent devoted unto Christ, our Messiah. It is not about the easy way out or a life free from heartache. I would rather live the life God has handed me, with all its mountain peaks and valleys, and have Christ to walk it with me, than all the carefree living in the world without Him.
What about you? How has your life changed since knowing Jesus? Is your life harder in some aspects or easier in others? Do you think people wrongly believe that the Christian life is suppose to be easy?