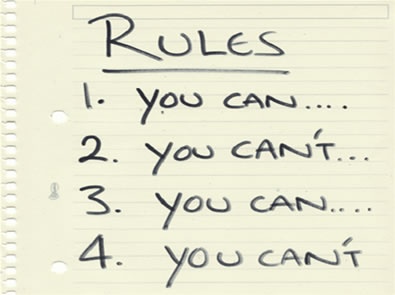 Ah, marriage. I love it. I love everything about it. I love the companionship, the company, the camaraderie. I even love the fact that I end up spending so much time with someone, which for an introvert like me can be difficult.
God knew what He was doing when He created marriage. He knew the needs we hold and the desires we keep. He designed men and women to be in partnership.
I realized quickly within marriage, though, that it was necessary to have guidelines and boundaries in place, both for the unspoken and the obvious. Jonathan and I talk often about our expectations for marriage and we check in with one another to see how we are doing as spouses. There are certain things we have agreed upon through our conversations that we will never do nor allow to happen within our marriage. Do you have guidelines like that, whether you are married or not? Things you and your spouse have committed to keeping in or keeping out of your marriage?
Need some inspiration? Well here are some of the things that Jonathan and I have sworn that we will never do or always do within marriage….We do not have friendships with people of the opposite sex unless it is with other couples. I wrote a post about this topic, asking: Can Men and Women Can Really Be Friends? The comments from you all were so varied and yet so enlightening. As for us, we have committed to never hanging out with the opposite sex alone.
We would never let more than two weeks go by without seeing one another. If, for instance, one of us, most likely Jonathan, were offered a job in another state, we would just move to that state. There would be no traveling back and forth or spending months apart. We agree that temptation, especially for men, is just too great and the enemy just too influential for us to ever spend more than 14 days apart.
We do not go to bed angry. Yes, this one is in the Bible and has become a bit cliche. However, I think it is a great rule within marriage. By following this, we have never woken up in the morning, and had to continue being upset with each other.
We are not allowed to leave in the middle of a discussion or argument. This rule applies primarily to me. When I was growing up, it was common to see my parents fight and then watch one of them walk out the front door, get in a car, and drive away. I learned this behavior and attempted to copy it in my marriage. Jonathan said, "Absolutely not! You cannot behave this way." I was convicted and have never done it since.
We don't buy anything over $100 without speaking to each other first. This is a simple rule, but can save a lot of frustration in the end.
We try not to let too much time go by without having sex. Sometimes we have extra busy weeks or one of us is traveling. Or maybe one of us is sick or our kids are sick. Either way, days can go by without any hanky panky taking place. We don't have a set number of days but we try and shoot for an average number of "romantic encounters" (that could be a reality show title) each week.
We prioritize our marriage as our first ministry. This means that we place our marriage above our children. To some people, especially moms, this is an outrageous idea. The truth is, though, a healthy marriage is the foundation for healthy kids. We prioritize by having regular date nights, mini-vacations and vacations, and time throughout the week to connect. We also let our kids know that, while we love them so very much, mommy and daddy's relationship comes first.
So what rules, boundaries, or guidelines do you have within marriage? If you are not yet married, do you have any in mind that you would like to apply to your future marriage? Ever see any rules that had a negative effect on a marriage?