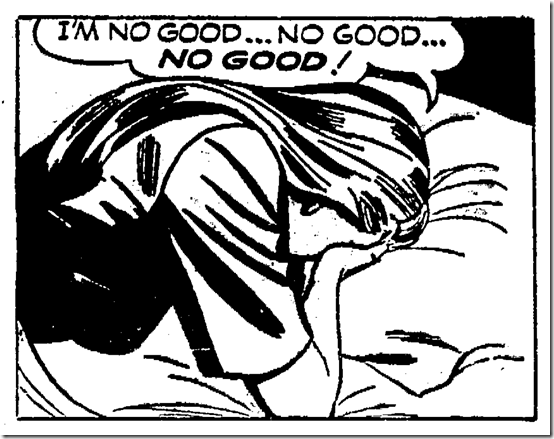 You know that expression "Don't throw the baby out with the bath water?" Well, I do that… a lot, and the baby being thrown out is usually me.  I have a tendency to disregard any of the good I have done, if it is peppered with any amount of bad, no matter how small. I struggle to accept where I am making progress, whether it be spiritually or otherwise, if I experience any sort of setback.
The words of self-doubt and lack of self-worth come flooding in. "You are no good, Nicole. You cannot do this. You should quit." Why is it in such moments that I cannot just say to myself, "Yeah, you've messed up a few times, but that doesn't mean you are totally messed up."
I recently read a book called Having a Mary Spirit. I couldn't read more than a few pages at a time, otherwise my eyes would swell up with tears, as I was both convicted and comforted, knowing I'm not the only one. The author, Joanna Weaver, posed one question in the very beginning of the book that rattled me. I sat on this question for days, then weeks, and I am still asking myself:
"If we aren't all good, does that mean we are no good at all?"I have fallen for this  lie again and again. If, for example, I yell at my kids one day, regardless of the situation, then I walk around telling myself that I am a "bad mom".
My husband is quick to point out to me that nowhere else in life works that way, so why should that rule apply to me? A baseball pitcher can have a less than stellar game, and yet, unless that is his usual M.O., no one is going to call him a "horrible player." Actors make bad movies all the time. George Clooney, for instance, has survived a few (anybody remember Batman and Robin?), yet people still consider him a great actor.
Basically, what it comes down to is, I am an all or nothing type of person. If I can't be great at something, I don't like to even try. Likewise, if I trip up or have a few bad results, I am all too ready to forget any of the good I may have already accomplished.
God certainly doesn't deal with us in that way. If He did, then I would be a wretched woman, full of despair and hopelessness. Instead, God does not remember our sins at all. Once they are forgiven, He casts them into the abyss, where they are forgotten forever.
Now, if only I could somehow apply that rule to my own life. I think what it comes down to is grace. I need to learn to give myself grace, much in the same way Christ offers grace, freely and without judgment. The Lord's grace is not attached to any strings  or hidden agenda. His grace flows out of His character. I need to let grace cover my own failures, as well.
I read recently that repentance of sin is not so much about saying we are sorry, as it is agreeing with God. When I apologize to the Lord I am not necessarily receiving the fullness of His grace and forgiveness. I am often times making an arbitrary statement, so as to make myself feel better about what I've done. But agreeing with God about my sin, including grieving with God over the root cause of my sin, well, that act encourages the grace and forgiveness I so desperately need. Agreement allows the Holy Spirit to move me forward and prevents me from constantly looking back at what I've done. In accepting God's definition of sin and calling it what it is, I am releasing sin's power over me. Grace can then reign, and condemnation has nowhere to go, but… away.
The thing is, I know that I really am no good at all without Christ. Without Him, I'm selfish, prideful, easily frustrated. In Him, I'm more patient, others-focused, and forgiving. On the days when I feel like a failure, and say things like I'm a bad mom or I should just quit blogging, it is because I was not abiding in Jesus. I was pushing through with my own strength and responding in my flesh. Apart from Him I am incapable of being anything but a sinner.
Instead of repeating to myself  "I'm no good at all," I want to start remembering that "He is always Good." I do not want to let the enemy rob me of my victories in Christ. Nor do I want to forget that I need to offer myself grace just as the Lord does. It's true, I'm no good at all, but it is He who is in me.
Do you ever struggle with thinking if you are "no good then you are no good at all"? What are you like without Christ? Who are you in Christ? What are some lies you battle?
post image from here