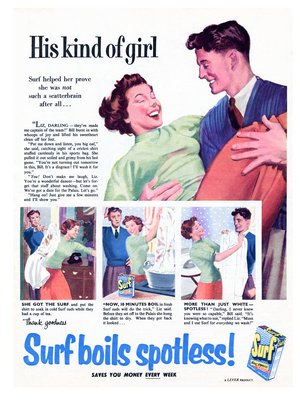 It's He Said/She Said Wednesday again, which means it's time to talk about two of my favorite subjects: men and women. Today, though, is going to get a little saucy, as I am tackling the issue of sex.
The Church and sex have a long and checkered past. Either the Church is silent on the subject, or it's all too vocal. But how do individual Christians deal with issue of sex?
We believers are not known for being sexy people. We are known for being a whole lot of other things before being sexy. But why not sexy? The Lord, in His goodness, created sex, after all. He even created it for enjoyment and pleasure. So are married believers actually enjoying sex? Or are they perhaps stilted in the bedroom by the negative connotations that the Church, and sometimes the world, attaches to the word "sex"?
Sex is supposed to be fun–so is it? Are you enjoying good old fashioned sex the way God designed it?My own sexual past is filled with both past sin and new found freedom. After accepting Christ, I began the long road to full sexual healing. I am not fully whole in terms of sexual freedom, but the Lord is bringing me there.
For me, my feelings about sex are a strange mix of both the world's view of sex, as well as what the Church preaches about it. The world says, "Be sexy. Sex is casual. Just do it." Of course, all of that runs in contrast to, "Sex is bad. Wait to have sex. Don't do it."
I battle these mixed messages in my own sex life. But I know intellectually that God designed sex to be enjoyed between a husband and a wife. He gave us sex as a gift.
Early on in my marriage, I remember the first time my sexual past started to rear its ugly head. I shut down. My husband said, "Let's pray." The idea horrified me. "Pray? We can't pray about sex. God is so not okay with that." But that's not true.
God certainly wants us to pray for our sex lives, that they be both fun and steamy, romantic and spiritual. A friend of mine put it this way: "Sex is a gift from God, and anytime you enjoy a gift from the Lord, you are in essence worshiping Him. So go ahead and 'worship' the Lord!" (You better believe that, "Let's worship" became a regular phrase in our bedroom.)
So, what does a healthy Christian sex life look like? I think it entails a few different things, but one of the biggest pieces, the part I am working on, is freedom. Sexual health in marriage requires freedom–freedom from past sin, freedom from negative connotations, freedom from shame, guilt, awkwardness, reservation, and being overly self-aware.
A healthy sex life also requires communication between spouses. I struggle here, as well, since talking about sex actually makes me a bit uncomfortable at times. "Dirty talk" is what the world calls it, but it isn't dirty before the Lord… far from it. Sex is actually good clean fun. I've since renamed dirty talk to "love talk." Sure, it's not as catchy, but it gets the point across. Expressing our needs and desires with our spouse can only lead to a more fulfilling sex life. So go have lots of "love talk"!
The world's message about sex is such a distorted one, and one we are all familiar with. Magazine covers exemplify this type of thinking with stories like "learn how to please your man. 101 sexual positions she will love. Foreplay rules." What the world fails to realize though, is that a "sex life" extends far beyond the bedroom. A "sex life" in marriage should really be, just part of life–everyday life. Creating a better sex life is determined in how we treat our spouse. Do you say your please's and thank you's ? Do you try and have a date night? Do you flirt with one another all day long?
I have experienced tremendous freedom and healing in the area of sex, especially since becoming married. My husband and I have fun, if you know what I mean (and I think you do), but like anything in life, it takes practice and commitment. You don't automatically have the world's most rockin' sex life overnight, but you can if you commit to allowing the Lord into that area of your life. I now regularly pray for mine and my husband's "sexy time," and guess what? God is faithful and He knows what we need.
As soon as we recognize what God intends our marriage bed to be, the sooner we can actually experience that kind of sexual health and enjoyment. The marriage bed is undefiled. Admittedly, those words are a little hard for me to write, but they are Truth. The more I say it, though, the less uncomfortable the idea makes me and the more I accept God's gift of sex.
How do you think Christians handle the issue of sex? What do you think makes a healthy sex life? Do you ever struggle with the message of sex from either the world, the Church, or both? And I'll just go ahead and ask it…How's your "Sex life"?
post image from here