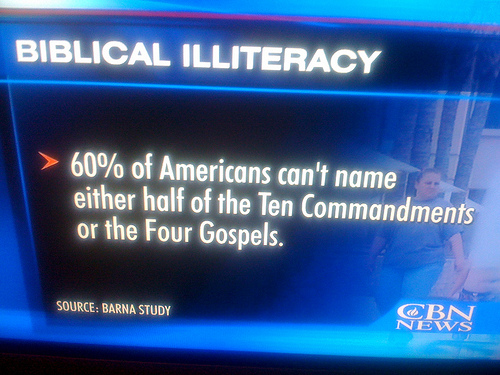 I would venture to say that more Christians have the lyrics to Beyonce's Single Ladies memorized than they do Bible verses. Okay, joking aside (and not counting John 3:16), how many verses does the average Christian have on permanent recall?
The Bible is still the best-selling book in the United States. Yet, statistics show that there is an epidemic of Biblical illiteracy among believers. Forget memorizing verses. Most Christians can't even name the books of the Bible, let alone memorize entire passages.
We say we love God's Word, but how can you love something you don't actually know? And why are so many Christians illiterate when it comes to scripture?
According to a 2000 Gallup poll, "59% of Americans reported that they read the Bible at least occasionally. This is down from 73% in the 1980s. The percentage of Americans who read the Bible at least once a week is 37%. This is down slightly from 40% in 1990. According to the Barna Research Group, those who read the Bible regularly spend about 52 minutes a week in the scriptures".
Granted, these statistics are based on  Americans who simply own a Bible, not necessarily individuals who identify themselves as Christian. However, those who call themselves born-again are no better. Another Barna Group study concluded:
68% of self-identified Christians have heard of spiritual gifts, a decline in the past decade; a minority (roughly one-third) can actually identify a biblical spiritual gift they claim to possess
Less than one out of every five born again adults (19%) has a biblical worldview, which is unchanged in the past 15 years
Just half of all self-identified Christians firmly believe that the Bible is totally accurate in all of the principles (not the facts, just the principles) that it teaches
Barely one-quarter of adults (27%) are confident that Satan exists
Scary, isn't it? So why are so many believers Biblically illiterate? There are a few reasons, I think.
One of which is that Christians do not know how to read the Bible. I think many believers pick up the Bible, open it up and attempt to read because they know they need to. However, they lack the empowerment of the Holy Spirit to admonish, convict, and teach them. They also lack the knowledge and instruction on how to, not only read, but also absorb, retain, and then apply scripture to their daily lives.
The Barna Group says this:
Bible reading has become the religious equivalent of sound-bite journalism. When people read from the Bible they typically open it, read a brief passage without much regard for the context, and consider the primary thought or feeling that the passage provided. If they are comfortable with it, they accept it; otherwise, they deem it interesting but irrelevant to their life, and move on. There is shockingly little growth evident in people's understanding of the fundamental themes of the scriptures and amazingly little interest in deepening their knowledge and application of biblical principles.
A second reason that many Christians are Biblically illiterate is simply that many churches today de-emphasize the need to thoroughly teach the scriptures. Between the commercialization of Christianity and prosperity teachings, many Sunday services are watered down, "seeker-friendly" versions of the scriptures.
Ironically, the Bible actually warns us of this type of so-called teaching in 2 Timothy 4:3: "For the time is coming when people will not endure sound teaching, but having itching ears they will accumulate for themselves teachers to suit their own passions…"
Perhaps the thing I find most disconcerting is that millions of people have Bibles–they sit on their shelves gathering dust, or next to a bedside, never opened. Satan doesn't care that people own Bibles. He doesn't even care if people open them up and read them from time to time. He does care, however, if those scriptures are understood, memorized, and applied.
It is like sending a solider off to battle with a loaded weapon that they do not know how to shoot. It looks official. It looks dangerous, but when it is time to defend ourselves or shoot our enemy, we realize we have no idea how to fire. Satan has helped create an army of impotent soldiers.
I am the first to admit that I am no Biblical scholar. I am often frustrated at the amount (or lack thereof) of scripture I actually know. I always pull one of these, "You know that verse, that's like, 'such and such'. I don't know where it is in the Bible, but it's in there." I desperately desire to be able to recall verses and their references at the drop of a hat. However, I have had the fortune of learning how to study the Bible, so that I am not just reading , but retaining. I also depend on the Spirit to illuminate God's Word.
I do not need to go into a long speech about why we need to read the Bible. It is our bread and love story. It is a message to all of humanity and God's very own words to His beloved children. It seems, though, that the threat of Biblical illiteracy is very much alive in the American Church. Church leaders and individual believers are responsible for teaching and understanding the Bible. We will sacrifice more and more soldiers if we do not teach them how to effectively fire their most powerful weapon.
How are you doing in the Biblical literacy department? Do you see Biblical illiteracy as a problem in your own church or community? How do you think we can best combat this epidemic?
post image here