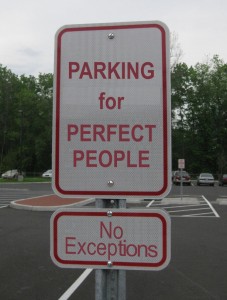 Hello! I hope you all had a joyful and fun-filled Christmas. I sure did, and I am still tired from the last few days.
Last Thursday on Modern Reject, I wrote a piece asking if there really is a war on Christmas. I linked to an atheist blog and the comments that followed were divisive, to say the least.
The comments on the post ranged from discussion of the question I originally posed, to what atheists really believe, to the historical evidence of Jesus' existence. I was tired by the end of it all, and so were others, I'm sure.
The questions and issued raised got me thinking, though. Why is it that so many people–atheists included–have such skewed perceptions of Christians? One commenter, for instance, compared me  to an Islamic-terrorists because I said that I view myself as Christian first before viewing myself as an American. He called that "dangerous."
I have felt defeated in the past when listening to people describe Christians. They call them brainwashed, delusional, or flat out stupid for believing in God.
But what is it about Christians that others find so insulting, so unnerving, and even dangerous? Why do some people think Christians are the very worst? Are you one of the very worst Christians?
It is easy for my to take offense when people insult my faith or my God. I can feel my blood pressure rise and my neck stiffen. I take it personally. I feel as though they are not only attacking  Christianity, but me.
But then I am reminded of these words:
For what partnership has righteousness with lawlessness? Or what fellowship has light with darkness?…Or what portion does a believer share with an unbeliever? 2Corinthians 6:14-15
We can only share so much with an unbeliever. We can never  be in fellowship with unbelievers. We can of course have relationship, but not fellowship.
As soon as we accept Christ, there is an automatic divide created between the believer and the unbeliever–a spiritual divide. I have seen this in my own family, as I am the only Christian within my family.
Since we know that there is a lack of fellowship between believers and unbelievers, does that explain why many unbelievers genuinely dislike Christians? Why do so many people find Christians to be unattractive?
In part, our lack of fellowship, explains why unbelievers sometimes dislike Christians. They are convicted by the Light. They find the name of Jesus to be offensive. Christ said, "Blessed is he who does not take offense at Me."
However, Christians are not always the best representation of Christ, and many times the furthest thing from it. Sure, our culture plays a part. The media stereotypes Christians. We often hear the worst news stories about Christians–the ultra-radical, or extreme sect of Christianity that gives other believers a bad name.
However, it is Christians themselves who are very much responsible for the stereotypes that exist. We judge and condemn. We point fingers and lay blame. We are hypocritical, rude, clique-y, and irresponsible with the Gospel.
We are often times poor examples of Christ, and more like examples of ourselves and those around us.
But there is more… the devil is convincing. Any Christian who does not believe in the influence or destructive nature of our enemy is not walking in Truth. He is very real and set out to destroy us.
One of the easiest ways to render Christians ineffective is to convince unbelievers that we are. Convincing unbelievers that Christians are brainwashed, idiotic, hypocritical weirdos is effective. The enemy is to blame and so are we.
Yet, the responsibility lies with each and every Christian to show love in truth and grace. We do not have the luxury of leisurely living our Christian life for ourselves only. That is not the Gospel.
I was convicted over the last few days of responding to many comments from atheists. I was not convicted by their arguments. I was, however, stirred that within my everyday ordinary life–do I look different enough? Or do I look just like those other Christians–the very worst Christians?
Thankfully, transforming into the image and likeness of Christ is a lifelong process, not an overnight one. I just wish those who do not know Christ realized the same thing.
Why do you think believers get such a bad rep? What do you see Christians doing, or not doing, that causes the most harm in your opinion? Who really are the very worst Christians?