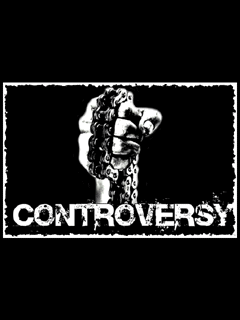 If you've read Modern Reject even once, you may have noticed that I am no stranger to conflict or controversy. Yes, I tend to write posts that are provocative, scandalous, and taboo. Some people have even accused me of writing this way for controversy's sake. Thing is, I have never intentionally set out to be controversial. I'm just a girl who likes to write about what's on my mind…
Sure, I have written something and thought afterward, "Ooh, this one is gonna stir things up," or "Uh oh. I'm gonna step on some toes with this one." While some might call this controversial, I call it button-pushing. What I really want is to open up conversation and create a dialogue around issues that are often overlooked or swept under the rug.
Perhaps my favorite description of my so-called controversial nature came from a compliment paid to me by funny man and writer Jon Acuff himself. He called me a "boat-rocker" and I loved it!
So without further ado, here are the 5 Most Controversial Modern Reject Posts of All-Time (in no particular order), ranging from topics on sex, atheism, faith, and race. I run the gamut, what can I say…
1. The Trouble with my Mouth. This post was really among the first to ruffle some feathers. What started it all? I made a comment about liberals. Want to know what I said? You'll need to read the post and don't miss the comments that follow.
2. Is There Really a War on Christmas? This bad boy took me by surprise. I quoted an atheist blog in this post, which alerted said atheist of my post. I was then bombarded with other atheists hopping over to Modern Reject to comment on my post. Needless to say, things got a bit heated. It's all in the comments.
3. Have Sex…Even When You Don't Feel Like It. This post is without a doubt the most controversial post I've written, in terms of generating traffic and general disagreement. Atheists' blogs have linked to this post, as well, and compared my suggestions to those of third-world countries that allow the rape of women. Hmmm…I'm pretty sure I'm not condoning rape in any sense of the word. Read it and decide for yourself.
4. Vanishing Men. This post was written in response to some of the mean, snarky, and even offensive comments I've received from, surprisingly…men. Men can be quite rude on this here blog and I addressed this issue and asked, "Why?"
5. Top 10 Christians Phrases I Never Want to Hear Again. Well, my readers loved this post. Turns out other readers did not. I have the privilege of having some of my posts published on ChurchLeaders.com and this was one of them. The readers over there disagreed with my list and actually attacked me outright. My readers came to my rescue.
Honorable Mentions go to: My Homeschool Nightmare, Christian Women and the "S" Word, and The Very Worst Christians.
Have you personally disagreed with any of these posts? How do you feel about controversy? Do you steer clear or jump in? Should I write more or less controversial posts?