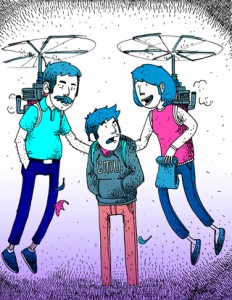 Some of you may have heard about the recent buzz surrounding a new book titled Battle Hymn of the Tiger Mother by Amy Chua, wherein she offers an unnerving and controversial account of raising her children as a Chinese mother.
Regardless of your personal thoughts or knowledge of the book, it certainly has done one thing: start conversations.
The term "tiger mom" is now being used to describe overly-protective, hyper-involved, strict mothers. I have to say that I don't see too many of these moms on the playground, but I do see a whole slew of other unhealthy types of parents.
It seems that more and more parents these days just don't know how to parent and, instead, resort to unhealthy and even irresponsible types of parenting. There are 8 patterns of problem parents. Are you one or do you know one?
In his book Generation iY, Tim Elmore identifies 8 types of damaging parenting that have developed out of the new generation of children and their parents.
1. Helicopter Parents–hovers too close
2.Karaoke Parents–try too hard to be cool (and they're not)
3.Dry-cleaner Parents–drop their kids off for others to raise
4. Volcano Parents–erupt over minor issues
5. Dropout Parents–let their kids down
6. Bullied Parents–can't stand up to their kids
7. Groupie Parents–treat their kids like rock stars
8. Commando Parents–let "rules" trump relationship
Most of the unhealthy parenting styles I see most regularly are either helicopter, karaoke, dry-cleaner, bullied, or a combination thereof.
In Scottsdale, where I live, the trend is very much for parents to so-overly invest themselves in their children's lives that parents often do not have a life of their own. A mom feels accomplished, successful, or worthwhile based on how well her children perform or excel.
Those parents also simultaneously ask others to raise their children. They essentially outsource their parenting to the school, church, synagogue, coach, teacher, doctor,  or whomever.
I find this to be a dangerous trend, because parents are both uninvolved, yet taking credit for the outcome.
I feel saddened for bullied parents, too. These parents allow their kids to run the show and it is exhausting. A 2 year-old will absolutely takeover a household if given an opportunity. Bullied parents spend each waking moment catering to their children's wants and desires (I suppose there is a little bit of groupie parenting in there, as well).
I personally, probably, struggle the most with being a karaoke parent. I mean, most parents want to be cool and they want their children to think they are cool. Of course, at 4 and 2, my kids think "cool" is anyone who gives them some french fries or an ice cream cone.
I don't worry about being the cool mom in the future too much, however, because I know that God will direct me to do plenty of things in parenting that will undermine any "coolness" I may have garnered. I'm okay with that.
I heard someone say once that, if your kids hate you, you must be doing something right. Of course, I desire a healthy loving relationship with my kids, but if they happen to think I'm the devil for brief periods between the ages of 13-17, I'm cool with that, too.
Okay, so what about you? Which of the parenting styles listed do you see as most harmful and/or prevalent? If you are a parent, do you struggle with one or more of these? How did your parents, parent you?
post image here