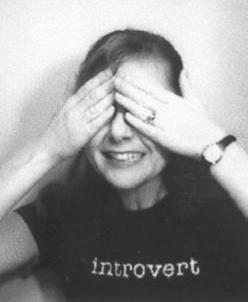 I had never really considered the differences between introverts and extroverts. I had never stopped to examine what I might be. I never cared…that is, until I met my husband.
Suddenly, standing next to my then-fiance, I realized that he and I were quite different (painfully so) when it came to how we interacted with people.
One particular Sunday following a church service at the mega-church we used to attend, Jonathan was walking me around and introducing me to numerous people. As the number of new faces grew, I slowly began to shrink. I froze. I became silent. I put my head down and avoided eye contact.
He pulled me aside and, in a loving yet stern way, told me that I was coming off as rude. He knew I wasn't rude, he explained, so something needed to change. i.e. me.
It was then that I realized that I was an introvert who had all along been posing as an extrovert. The thing I soon came to realize, also, is that "introvert" is not a dirty word…
My husband and I joke because, he will call me an introvert around new people and whisper when doing it. You know, "Well, Nicole…she's an introvert."
Us poor introverts, we are often made to feel worse for being who we are. I'd just like to clear up a few things about introverts, however:
We ARE social. Being an introvert has nothing to do with being anti-social. An introvert is defined as someone who recharges by being alone. An extrovert is defined as someone who recharges by being with others. Nowhere, however, is it stated that introverts are not social people.
I am very social. Most people never suspect that I am introvert. I love parties, family gatherings, holidays. But here is the distinction: I prefer smaller groups of familiar people as opposed to larger groups of strangers.
I'll take a dinner for 6 over a party of 20 any day of the week. My husband, on the other hand, loves to walk into a room and not know a soul. He gets glossy-eyed (I'm serious) and begins foaming at the mouth (I'm joking)–eager with anticipation. For me, that scenario is pretty much hellish.
Secondly, introverts are outnumbered, and that's why we stick out. The population is made up of 75% extroverts and 25% introverts. No wonder introverts often feel like outcasts. We essentially are. More people in the world refuel by being with others, so we are sometimes looked down upon for needing time alone.
Introverts are not being rude. Usually, we just simply need more time to warm up and speak up. We find chit chat and small talk brutally painful and avoid it at all costs. We might be misread as aloof or detached, but really we just like to know someone before jumping in.
We are people just like everyone else. We just happen to find a cup of coffee alone with a book more energizing than a cocktail party. We aren't opposed to the cocktail party, we just need both and a little more of one than the other.
So please, if you are an extrovert, be kind to us introverts. We really are wonderful, awesome, fun people (well, most of us). And if you are an introvert, know that you're not alone–well, except when you choose to be because people make you tired.
Okay, so are you an INTROVERT or and EXTROVERT? Have you ever given the other a hard time? Do you know of any relationships where the two opposites work well?