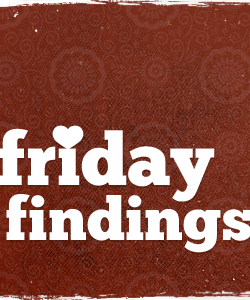 Happy Friday! I don't know about you, but this week flew by. You may have noticed some changes here on Modern Reject. My little blog went and got herself a facelift. There are a few more changes to come over the next few days, so stay tuned.
Also, early next week I'll be hosting the first ever Modern Reject giveaway, in honor of my new and spiffy blog design. I'll be giving away a slew of goodies, so be sure to check back because you won't wan to miss it.
Last week on Friday Findings, I mentioned Ally Spotts to you, a blogger extraordinaire.Today, my husband and I are actually guest posting for her. We are the addressing the issue of whether or not you can (or should) have friends of the opposite sex once you are married. We'd love to hear your thoughts! So please, hop on over and share some comment love.
Some other posts that caught my eye this week that you might be interested in:
An Ironic Thing Happened on the Way to the Forum by Matt Appling of The Church of No People. Matt continues to be one of my favorite bloggers because he churns out posts like this, asking the question: Why has Generation X become so cynical?
On the Halloween front, a funny clip of the Colbert Report and a new holiday called Jesus-ween via Jesus Need New PR.
And I'm sure the dudes reading don't care, but here are two of my new favorite design and diy blogs, Lovely Indeed and Prudent Baby. They inspire me and make me realize just how lazy I am when it comes to being crafty.
Lastly, my favorite new Christian blog, by a man named Sammy Adebiyi. Sammy is a no nonsense, tell-it-like-it-is, in love with Jesus man. In a lot of ways, he's like the male version of Modern Reject, in that we are very like-minded. I hope you like his writing as much as I do.
What did you discover this week? Anything caught your eye that you're dying to share? And while we're at it, any plans for Halloween (or Jesus-ween)? Tell me!