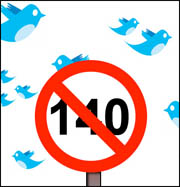 In our high-tech, digital, on-line worlds we have begun to abbreviate everything. Our relationships are virtual. Our messages are edited. Our off line life rivals our on-line persona.
The generations coming up are completely enveloped in their on-line and technologically created worlds. A text message is the new 5-page letter. A "like" is the new customer review. A tweet is the new word of mouth endorsement.
And where does the Gospel fit into all of this? Have we begun to shorten the message of the risen King in order to cram it into 140 characters? Do we need to?
If we expect to capture the attention of the now 12 year-olds, we may need to do just that. When I think of this as a necessity however, I cringe.
I don't want to abbreviate Christ. But then I wonder–isn't the Gospel still just as powerful and trans-formative whether it is 140 characters or a 140 pages?
Isn't God perfectly capable of using–dare I say it–social media to spread the Gospel of Jesus Christ?
Now, if I'm being honest, it isn't my preference. But I also acknowledge that social media and the edited, succinct, and stripped down messages they produce, are the future…like it or not.
I admit too, that I have caught myself needing to carefully edit my tweets, so as to fully express my thoughts without going over the painful limitation of a 140 characters. It ain't always easy and the ampersand (&) comes in quite handy.
With that said, I'm willing to give it a go. Here is my version of the Gospel in 140 characters:
Jesus came to earth fully God & fully man, died on a cross & lived again to rescue you from yourself & to free you from sin's grip.

…140 characters. Ka-blam. It wasn't easy. It took me a few. And now, if you are so inclined, please share your 140 character version of the Gospel. Remember, it's characters, not words. Commas, apostrophes, and periods count.
I don't want to edit God. I never want to assume He can fit into any box. We don't serve a one size fits all God. But certainly He can use technology and the constraints it produces, at times, to bring Himself Glory. God is bigger than Facebook, Twitter, and even Google. There, I said it.
Do you think the Gospel can be or should be abbreviated? What are some ways to use social media to reach the younger generations?