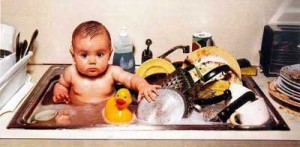 Today's guest post comes from none other than my blogging buddy, Ally Spotts. Ally is a talented and insightful writer who blogs about faith, relationships, and life. If you've yet to visit her blog, you're missing out. I'm glad to have her back on Modern Reject. Enjoy. (P.S. I'm guest posting for Malisa at her blog today, as well about How I Became a Blogger. Check it out!)

It used to drive me crazy when my married friends would ask me to babysit for them.
A group of people would be going out to do something fun – usually a group of married couples – and they would ask if I wouldn't mind staying back with their kids. I would think to myself, "Really? How come I'm the one who has to stay home with the kids – just because I'm single??"
The thing I started to realize is that I'm not the one who has to stay home with the kids, usually. In fact, most nights I get to go wherever I want and do whatever I want.
My friends who are parents are the ones who have to stay home with the kids most of the time. And even when they get to leave the house, it's usually to do something they have to do. Even then it costs them a bunch of money.
If you're single I would challenge you to re-think the way that you see babysitting for your married friends. I did and what I found was that all kinds of good things come from offering free babysitting for my friends who have kids.
You get to be an incredible blessing to your friends.
Marriages are under a tremendous amount of pressure as it is. Add kids to the equation and keeping a marriage together (forget making it vibrant and healthy) is a task that takes tons of time and hard work.
Most of the time, as singles, we're oblivious to this reality. We don't think our friends marriages are in any sort of trouble. But I don't know why this sounds shocking to us. Look around you – marriages are failing (even Christian marriages) at a remarkable rate.
What if you could offer the the gift of time to your married friends? What if this was the time they needed to invest in the health of their marriage? As singles we have a really cool opportunity to offer this gift.
We have time. Why would we not give it?
You need to learn what babysitting has to teach you.
Babysitting teaches me all kinds of things I'd rather not learn but that I need to know, like selflessness and considering another's needs more important than my own.
Usually I eat whatever I want to eat and at whatever time I feel hungry. When I'm babysitting I have to prepare food for someone else, first. Babysitting asks me to play games I wouldn't otherwise play, read books I wouldn't otherwise read, and eat food I wouldn't otherwise eat. This might not sound like a very fun lesson to learn, but I guarantee you you'll be happier when you learn it. You'll have a happier life as a single and you'll have a happier marriage someday.
If learning this lesson is going to make you happier all around, wouldn't you like to start learning it now?
Babysitting is more fun than it sounds.
I learn lessons that aren't fun to learn when I babysit but I also have a really good time hanging with the kids. I'm not just saying that. I mean it.
My friend Jodi's girls prepared a performance for me one night and I smiled all the way through as they sang and danced to Taylor Swift. I asked her daughter Ali to tell me a story and she recorded the most imaginative and hilarious story on my iPhone camera. I keep that video and every time I watch it it makes me smile.
When I help kids with their homework and watch them "get it" I feel satisfied to see them grow. I feed frozen yogurt to my friend's 1-year-old son and his enthusiasm and enjoyment is like getting to enjoy it myself all over again.
I get to see life from a different perspective.
The other day I was listening to a good friend talk about her daughter's rebellious spirit and I told her it her the conflict reminded me of me when I was younger. For the rest of the conversation she got to hear (really hear) the perspective of a daughter and I got to hear (really hear) the perspective of a mother.
The conversation gave her new insight to her daughter and prompted me to call my own mom and find resolution.
Sometimes after babysitting I go home and think, "Wow. I'm glad that I don't have kids…" But most of the time I'm really grateful for a glimpse into a reality that isn't mine yet. It helps me to think about what life might be like with kids someday.
It makes me anxious and excited and even a little fearful. In a good way.
What about you? What have you learned by babysitting for friends? Have you had friends watch your kids? How has it blessed your family and your marriage?
My name is Ally and I'm a writer, blogger and Christ-follower from Portland, Oregon. I run a lot, read a lot, think a lot, talk too much and write about it pretty much always. You can read my musings HERE.