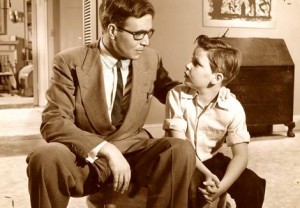 People say that marriage is God's way of magnifying your flaws. You may have heard the phrase, "Marriage isn't only to make you happy, but also to make you holy." I agree with this sentiment, but I have to say that nothing has given me a kick in the butt of self-evaluation and conviction like becoming a parent.
Kids repeat everything you say. More than that, they remember everything you say, whether they tell you or not.  A parent has more power in their tongue to build up or tear down than anyone else on earth. Daily, I can choose to bless my children with my words or curse them. It seems like practicing the former would be a simple choice, but you'd be surprised at how much God has had to train my tongue since I became a mom.
I can think of things my parents said (or didn't say) that greatly affected me. I never want to abuse this power or fail to speak life to my kids. With that said, here are 15 Things You Should Tell Your Kids…
1. I love you (say this one often and always).
2. I'm proud of you.
3. Sex is awesome…in the context of marriage.
4. Mommy and daddy love each other.
5. Mommy and daddy will always be married.
6. I don't care if you sweep streets or pick up trash for a living, as long as you love Jesus and love others.
7. Being smart is great, but I really care about your character.
8. You actually can't be anything you want, but you can be great at something.
9. Satan is real...
10. …but, so is Santa Claus.
11. Love is a verb, not a noun (Then live this one out).
12. I'm sorry. I was wrong. Will you forgive me?
13. You can always, no matter what, tell me anything.
14. God loves you more than I ever could.
15. I might mess up, I might fail you, but God never will.
What would you add to the list? What did your parent say to you that is burned in your brain? What do you wish they had said? What do you wish they hadn't said?