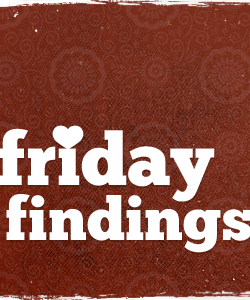 If you tried to waste spend some time on Modern Reject yesterday, you may have been disappointed to discover that she was down for part of the day. Sad face. I'm working on some server issues right now to hopefully remedy this problem in the future (P.S. anyone know of a brilliant WordPress developer?).
Anyhoo, how was your week? Mine went by quickly, which is always nice because I cherish my weekends. I did happen to come across some cool stuff this week. But let me warn you, it's a hodge podge. I was all over the place…
Victoria's Secret Model quits to honor God and her marriage. You read that right. I hope this little article gains momentum.
And the Worst Wife Award Goes To... by the hilarious and humble Bianca Juarez.
The Womanhood Project. Imagine a group of women, coming together, to write about one thing: the word "womanhood." Well, I had the privilege of contributing to this project. It ranges from serious to sarcastic, humorous to heartfelt. I promise you'll enjoy.
Interview with a Conservative Christian. I really enjoyed this interview via Rachel Held Evans blog. I think more and more, Conservative Christians are being given a bad wrap, especially those involved in politics on any level. I found this interview to be well-stated, articulate, and rational.
I'm a Reject Because… Last week, I asked, for any of those interested, to submit a blog post on why you are a reject. So far, I have received some great entries, but I want more! So, go ahead and tell me why you are a reject. I'll be posting the pieces in March. The deadline is February 25th.
So there you have it, my picks for the week. What were your favorite things this week? An article, blog post, video? Share away!