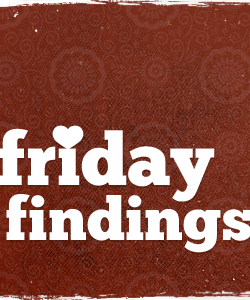 Happy Friday. I was so looking forward to this weekend because I have lots of fun things planned–a lecture on mid-century homes with a dear friend, time with out-of-town-friends, brunch at one of my fave restaurants, and some good ol' R&R.
But, before I slip away for the weekend, here's some of my favorite picks from the week:
What Was He Thinking? Dads are funny and they parent very differently from moms. As my husband always says, "Good thing kids have moms and not just dads, or they'd be dead." This blog is perhaps living proof of that sentiment: What Was Daddy Thinking.  It is a collection of pictures of little children and infants in precarious and questionable situations, thanks to…you guessed it, their dads.
Protection for the Atheist. I read an interesting post from Daylight Atheism a few days ago called Creating a Safe Harbor for Nonbelievers, which discusses where the nonbeliever can go for support once they have quit believing in God. It was an interesting and eye-opening read.
Trayvon and Justice. I've been following the Trayvon Martin tragedy, like so many Americans. I had for a brief moment considered writing a post on the issue, but decided against it. My view is unpopular and it was not something I  did not want to tackle here on Modern Reject. However, this post from the Wall Street Journal by Juan Williams is exactly what I would have liked to have written on the issue, although I doubt I could have said it as eloquently and intelligently as Williams.
Self-Promotion is a Good Thing. Donald Miller wrote a great piece on why self-promotion is neither arrogant nor unholy. I have struggled with "promoting" myself and this blog, at times. It feels unnatural, but the points he makes are excellent ones and very encouraging.
A Big Box of Fun. Have you ever heard of Birch Box? It is a fantasy item for product and make-up junkies like me. Basically, you spend $11 a month and they send you a box of fun goodies. I'm in. There is also a similar product for moms called Bluum. And don't worry guys, I didn't forget about you. Men have the awesomely titled Manpacks, filled with things like razors, socks, and cologne.
There's my round-up of Friday Findings. I hope you enjoy.
Now what made your list for the week? Anything worth sharing? And got any plans for the weekend? I'd love to hear!