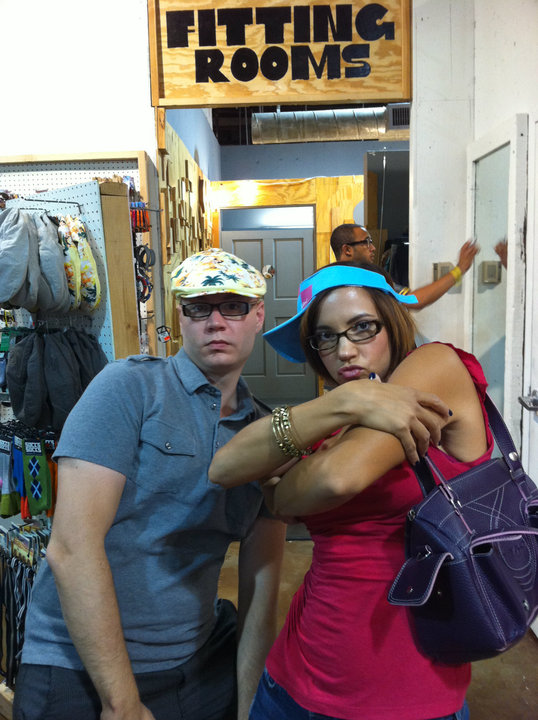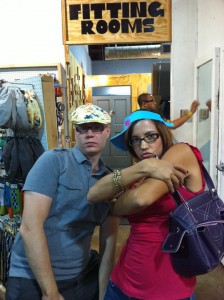 Happy Wednesday, which also means happy He Said/She Said day. Today is the day we diverge from our usual broadcasting to talk about men and women.
In my time writing here on Modern Reject, one thing that people thank me for more than almost anything else is for talking so openly about my marriage. And more than that, people always thank me for painting a picture of a healthy, fun, rockin', Christ-centered marriage.
I mean, occasionally I have someone tell me to quit bragging and sounding so prideful because, hey, not every marriage is awesome and I'm just pouring salt on others' wounds. For this, I apologize, if this is the case. I never want to sound prideful, but truth be told, I am proud of my marriage.
I chose wisely and God hooked me up with an amazing man. Today, I thought I'd share the story of how I actually met my husband. Now, I know some might not be interested, but I also know that others will. I'm sharing this because I love to hear people's love stories. They inspire me, encourage me, and bring a smile to my face.
I hope the story of how I met my husband does the same. I hope it inspires people to look for love and seek marriage. Why? Because a good–heck–amazing marriage is possible. Jonathan and I are proof.
Here's our story…
Our Eyes Met
I was invited to a college church group by a guy I had recently met. His name was Matt (his name has been changed to protect everyone). I agreed to come along, as I was in search of a new church at the time. I walked into the college group room filled with about 100 people.
There, across the room, I saw Jonathan and our eyes met. Uh. No. That so did not happen. This isn't the movies. Come on…
Instead, Matt introduced me to Jonathan, who happened to be one of his closest friends. Jonathan was vivacious, outgoing, a little annoyingly loud, and super high-energy. I thought he was a little weird. Fun, funny, and cool…but weird.
Soon after meeting Jonathan, he told me about how much he loved his girlfriend and how he couldn't wait to marry her. He had a plan and he was going to propose to her in one year. I remember being impressed by how genuinely enamored of her he was–how fully devoted.
Friends First
Before I knew it, Matt and I were dating. He was a great guy, in love with Jesus. We had a fun and light-hearted relationship. And wouldn't you know, I found myself spending lots of time with Jonathan, too. The two guys were great friends, after all.
Matt and I, along with Jonathan and his girlfriend, even took a trip to Disneyland.
Jonathan also became my home group leader, where we met with about 20 other college students, to share our faith, edify one another, pray, and hang out. During that time, I was able to observe more of Jonathan's character and heart for God. I grew to admire and respect him greatly.
And I'll be completely honest, I never had a single thought about him as "more than a friend." That is, until…
The Break-Ups
Jonathan and his girlfriend broke up. Months later, Matt and I broke up. Still, no obvious lovey-dovey feelings on my part (I can't speak for Jonathan because, to be honest, I think he was jonesin' for me). Anyhoo…
I had to move out of my apartment and recruited a few guys from college group to help me. Jonathan came to help, of course. He was my friend and home group leader, after all. But that day, something was different.
He seemed flirty. But could it be? Was he flirting with me or just being reaalllllly friendly? I wasn't sure and it was freaking me out. I tried to not act all weird around him during the move. Later that night, he showed up at my new apartment with a housewarming gift. Then I really started to wig out.
The next day was college group, which Jonathan helped run. Each week they would show funny Jackass style videos starring our own college guys. There, up on the screen, I saw Jonathan's face and I think I actually said out loud, "Oh, crap, I have a crush on Jon Cottrell."
I felt sick to my stomach. Confused. Nervous. I thought for sure that if he looked at me, he would know. So, I did what any normal person would do: I avoided him.
Except that we couldn't really avoid one another. That same night, our group hit up our usual restaurant for late night grubbing. Jonathan and I chatted like normal, but as I was leaving, he invited me and a friend over to his house.
I was slowly starting to see what was happening. And so, I went to his house, hung out for a bit, and headed home. Later, I realized I had left something at his house. I texted him, asking him to find my lost item (which was a cool candy gadget thing I had just bought). Thus began a barrage of flirtatious text messages.
The next morning he texted me telling me he had sent me an email. I was sure the email was going to say, "Nicole, you're a nice girl and all, but you're Matt's ex-girlfriend. I can't date you. Have a nice life."
Little Did I Know…
But that is not what his email said. I'll spare you the cheesy details (unless you ask me in the comments), but he basically told me he thought I was awesome and he wanted to date me. Pretty much the opposite of what I had suspected.
And little did I know, that Jonathan had already talked with Matt and told him that he had feelings for me. He had asked Matt, as a brother in Christ, for permission to pursue me. Matt was a solid brother and agreed.
Despite Jonathan's Godly and mature move of talking with Matt first, we still hurt his feelings once we began dating. Jonathan's ex-girlfriend also felt hurt (although truth be told, she had no reason to feel that way if you ask me).
Still, we faced some scandalous talk in our college group. There were whispers and rumors. But those whispers and rumors became quite a bit louder when only 6 short weeks later…
He asked
That's right. We were engaged after 6 weeks (which is another story in and of itself). People disapproved, even Jon's dad. He cautioned us to postpone engagement. We didn't, but we did pray and feel with complete certainty that the Lord wanted us to make it a longer engagement.
And once again, little did I know just how awesome of a marriage God had in store for us. From strangers, to friends, brother and sister in Christ, to dating, engaged, married, and 3 children. Sheesh…
We still look over at each other sometimes and tell each other how we can't believe that we got married.  That Jon chose me and that I chose him. And really that God chose us for each other.
So tell me your love story? If you're married, how did you meet? If you're not married, do you hope to be someday?